Welcome to AdRoll! We're glad you're here.
Read each section below and familiarize yourself around the platform.
Homepage
When you log into AdRoll, you'll see the Homepage. From here, you'll be able to see valuable site metrics and how they are trending over time, see what's happening to your active campaigns, launch different AdRoll solutions, customize your site, and have access to helpful resources to get you going.
Navigation Bar
The navigation bar is located on the left side of your screen. You'll be able to access all your marketing tools such as your ad and email campaigns, reporting dashboards, and the Homepage from here. Click on the

icon to expand/collapse this menu.

This bar also contains several navigation tools: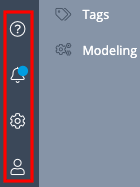 Help icon — Directs you to our Help Center, submitting a ticket to our Support team, or sending a feature request for our Product team to consider.
Bell icon — You can find your notifications by clicking the bell icon. These include updates from the policy team and other important notifications about your account.
Gear icon — Where you'll find the settings menu. Here's a quick overview of the options:
Personal Information
Enter your name and email, and select your preferred language.
Password and Security
Set your password and access your 2-step verification.
Email Preferences
Set which AdRoll emails you want to receive.
Company Information
Enter your company details here.
Advertiser Profiles
Add or remove profiles here.

User Permissions

(Admin only)

Administrators will modify these settings to manage your account and configure AdRoll for your entire team.
Payment Methods
Manage your payment options here.
Billing History
Check your account balance and view all of your invoices.
Facebook
Connect your Facebook page and/or your Instagram account.
Opt-ins
View and manage your opt-ins.
GDPR
Choose your GDPR consent options.
By IP Address
Prevent all ads in your account from displaying on an unwanted computer or network by excluding them to certain Internet Protocol (IP) addresses.
By Domain
Add list of domains you don't want to be associated with.
Profile menu — If you have multiple profiles, you can switch between them here or view them all at the same time. You can also log out of your account from here.
Help Widget
The Help Widget is your main source of support within the AdRoll platform. You can search for helpful knowledge base articles and read them from the widget. You can also reach out to our Customer Support agents via Live Chat.