To show your ads on Facebook, first link your Facebook business page to your AdRoll account. In order to do this, you must be the Admin of your Facebook Business Manager or the Page Owner.
You can connect your Facebook page to AdRoll when you're building out your first Facebook campaign.
Note: We need Advertiser access to post Facebook ads on your behalf. To learn more about exactly what is available for each admin permission check out Facebook's Help Center article.
Connect in Campaign Creation
Log in to AdRoll and start creating a Facebook campaign or Automated Campaigns. Refer to our post that walks you through setting up a Facebook or Instagram campaign for help.
Follow the prompt to Connect to Facebook.
If you have multiple pages connected to your Facebook account, select which page you want to give AdRoll advertiser access to.
Click Select to finish connecting your page to Facebook.
Connect Your Instagram Account
Connecting your account allows you to monitor your Instagram ads. Additionally, your ad links to your Instagram page, so visitors can easily follow your account.
You can also serve your campaign on Instagram without connecting to Instagram. This gives our advertisers without an account or without access to their Instagram account the ability to run Instagram ads.
Note: Managing your Instagram comments on AdRoll is not available at this time. However, you can manage your comments directly in your Instagram account.
To connect your account:
Create a Business Manager account with Facebook and create an Instagram account. Learn more about creating a Business Manager account for Instagram.
After connecting your Facebook page, click Connect Instagram Account under your Connect Facebook and Instagram tab. You will see a list of all the Instagram accounts already connected to your Facebook page that are available for you to use.

Click on the Instagram handle you want to connect and click Select. A pop up with instructions to connect AdRoll as a partner.

Click on Open <your Instagram handle> in your Business Manager. This will take you directly to the selected Instagram account in your Facebook Business Manager.
From here, click

Assign Partners

and enter

10151335266804117

(AdRoll's business ID) in the popup box and click

Next. You'll see AdRoll is now added as an Agency Partner.
Advertiser Access
We need access to your Facebook Page to create your News Feed ads and pull the data we need to report on campaign performance. For more information on managing page roles (and the differences in access levels), check out Facebook's support article.
For Agencies
Advertiser access must be granted to AdRoll by a Facebook Page Admin. If you are not the admin, there are two ways in which you can provide advertiser access to AdRoll:
Alert: 'Option 1' will NOT work if you are using Facebook's "New Page Experience". Please follow 'Option 2' in that case.
Option 1: Input your Facebook Page URL for AdRoll to send the access request
On the AdRoll dashboard, under Settings > Facebook & Instagram> Connect to Facebook step, select Send an advertiser access request to a page you don't have Admin access to.
Select "Insert Facebook Page URL".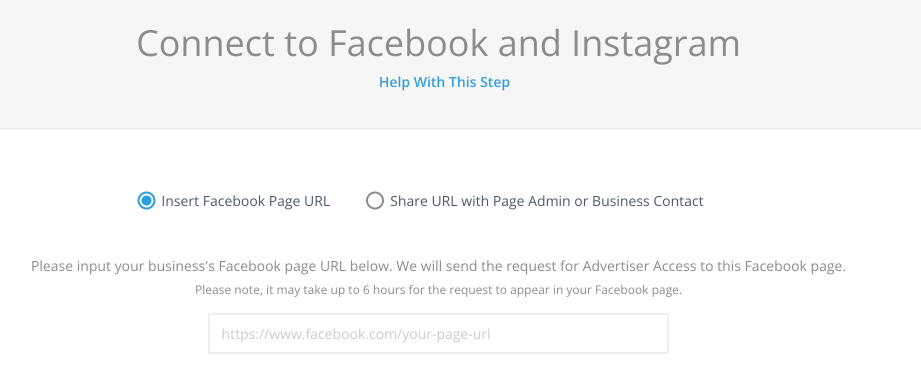 Input your business's Facebook Page and press "Send Access Request". You will see the status change to "sending" in AdRoll.
Note: It may take up to 3 hours for this access request to be sent. You can press "Refresh Status" if you'd like to see the current status of the access request.
Once the status changes to "Sent", send the link we provide to the Page Admin of the account. Instruct them to go to the Page Roles section of their Facebook Business manager or Facebook page to accept the access request.
If they do not find the request in Page Roles, they can also look at their Facebook page or Business Manager notifications to find the access request. Please note, the request will be sent to the page associated with the URL you entered in Step 2.
Option 2: Send a page admin the link to grant AdRoll access directly.
On the AdRoll dashboard, under Settings > Facebook & Instagram> Connect to Facebook step, select Send an advertiser access request to a page you don't have Admin access to.
Select "Share URL with Page Admin or Business Contact".

Generate the URL.
Copy the URL.
Send the URL to the Page Admin to give AdRoll access using their Admin login.
Troubleshooting
Make sure the submitted URL links to your Facebook business page. Event or personal pages won't work.
If you verify that the page you are trying to add is an eligible business page, but are still seeing an error, check for Country and Age restrictions on your Facebook business page.
Remove Restrictions
Log in to your Facebook Business Page.
Navigate to Settings > General.
Set Country and Age restrictions to "Page is visible to everyone".
Disconnect Your Facebook Page
To remove your Facebook page from your AdRoll Account, navigate to Settings > Facebook and click Remove.