Alert
: This feature is only available to our paid subscribers. You can check out your plan options
here
.
Sign up
here
to be the first to know when it is available for your account.
Connected social ads is a new feature that enables you to connect your Facebook/Instagram, Pinterest, and Tiktok advertising accounts to the AdRoll platform to enable a holistic view of all your marketing efforts within one interface. Once social channels are connected to our platform, you can view all your campaign's performance side-by-side and edit campaigns as needed for greater optimization. You can also seamlessly import your ads and audience data from your social channels into the AdRoll interface from the past 12 months.
How does it work?
Getting connected to your social channels is very straightforward, please follow these four steps for easy integration:
Click on the "Integrations" button located in the bottom left corner of your dashboard.


Hover over a tile for one of our supported social channels and click on the "Get Started" directional that appears.

From there, a popup appears where you can log into your social business/ad manager account.

Note
: You can only select an ad account that uses the same currency as your AdRoll account (e.g. if your AdRoll account uses USD, you can only select USD ad accounts).
If your FB ad account for example uses EU and AdRoll uses USD, we will not be able to integrate your account due to currency differences.

Once you connect successfully, your campaigns will be automatically added to the AdRoll platform where you will be able to view your connected social campaigns alongside your AdRoll campaigns.
Note: Initially your campaign data will take 24 hours to import but after that, it will be updated on an hourly basis.
Navigating your Connected Social Campaigns
Note
: Imported social campaigns will carry one year of historical data into the AdRoll dashboard and we only import campaigns that have spent in the past year.
Additionally, all ads and audiences imported with social campaigns will live in our ads library and can be used in any other campaign for that channel.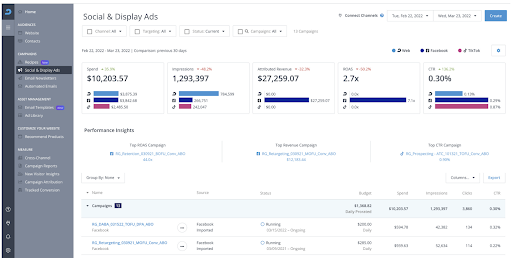 Key Features
You can filter the data by Channel.


You can pause, edit or view your connected social campaigns directly on the channel site.

What can be edited in a Connected Social Campaign?
Facebook & Instagram
Pinterest
TikTok

Campaign

Campaign Objective
View Only
View Only
View Only
Campaign Budget
Set at AdGroup Level

Ad Group

Ad Group Budget
NA
Ad Group Budget Limit
NA
Bid Strategy
View Only (TikTok Restriction)
Optimization Strategy Goal
NA
View Only (TikTok Restriction)
Strategy Goal Amount
Scheduling
End Date Only
End Date Only
End Date Only
DayParting
NA
NA
View Only (AdRoll Restriction)
Adding New Ad Groups

Targeting

Audience Selection
Audience Geo
Audience Age
View Only
View Only
Audience Gender
View Only
View Only
View Only
Audience Language
View Only
View Only
View Only
Audience Devices
NA
View Only
View Only
Interest Targeting
Keyword Targeting
NA
View Only (AdRoll Restriction)
NA

Ad Creative

Ad Placement
View Only (TikTok Restriction)
Ad Selection
Ad Creative
View Only
View Only
View Only
Alert : For Ad Creative, it is not possible to edit the imported ads, but you can create new ads for all three social channels and add them to the campaigns on AdRoll.
How to edit a Connected Social Campaign?
Hover over a campaign, click on the three ellipses symbol, and select Edit. or you can click on the campaign name and select the Edit button present in the top right corner.

This is what the edit campaign page looks like.


You can view your applied campaign settings along with the Ad Categories.


You will be able to make edits at the Adgroup level as well.

Select ads, and you will have the option to duplicate or add a new ad set.

Viewing Campaign Performance
You will have a holistic view of your campaign performance across channels without exporting numerous reports.