Our TRYTN integration gives you the ability to build Audiences from visitors to your TRYTN event pages. You can then use these Audiences to run AdRoll campaigns to drive event registrations.
Activate AdRoll in your TRYTN account:
1. Log in to you TRYTN account and click on Settings.
2. Under Integrations, click on Tracking.
3. Paste your Advertisable EID and Pixel EID.
Next, you need to create your Details, Checkout, and Confirmation Audiences in AdRoll.
Create TRYTN Audiences in AdRoll:
4. In AdRoll, go to the left navigation menu, click Website under Audiences.
5. Click New Audience and set Audience Type to URL Visited.
6. Fill in your Audience Name and click Copy ID to clipboard. This pulls a unique alphanumeric ID to be used as the URL rule placeholder.
7. In URL pattern field, type a plus (+) and then paste the copied ID.
8. Enter your desired Duration: the number of days that someone remains an active part of the audience.
9. When you're finished, click Create Audience.
10. Repeat steps 5-9 for both Checkout and Confirmation Audiences.
Note: Be sure to only check the "This is a conversion audience" box when creating your Confirmation Audience.
Finish Defining your audiences in TRYTN
11: Back in you TRYTN account, paste the Audience IDs created in step 5 and step 6 into the appropriate fields.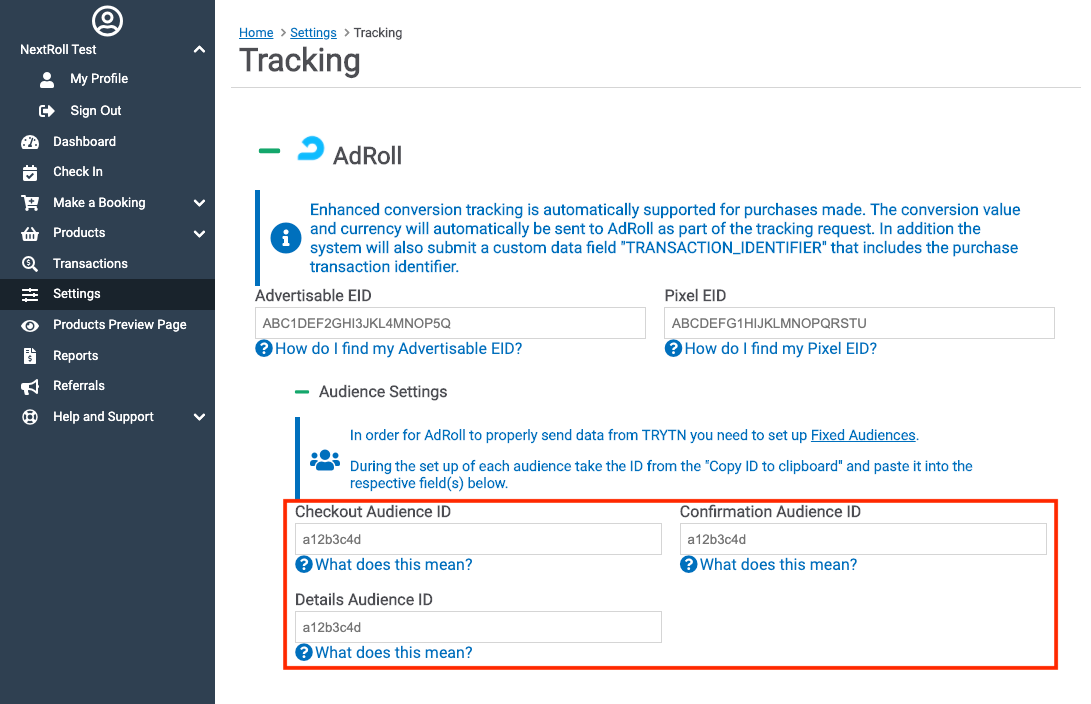 12: Click Save Changes.