If you're building your own cookie consent banner or using a third-party banner, make sure you follow these best practices from both a technical and a compliance perspective.
Legal Note: This is not legal advice, but rather guidelines based on the current regulatory activity in the European Union and NextRoll's services. You should consult with your own counsel, privacy professionals and/or internal resources to determine a comprehensive and appropriate cookie consent solution for your business and your marketing activities.
Visual Notice
Any visitor to your site[s] from the European Union or European Economic Area ("EU/EEA") must grant consent for NextRoll specifically to process their personal data through cookies and similar tracking technologies. To accomplish this, you need some type of visual element on your site that explains the personal data collected and processed, and which clearly request consent from the site visitor. The visual element providing this information and requesting consent must be unavoidable. Make sure that it isn't hidden and that its size and colors do not blend into the background of your site.
Below is how we present the notice for sites using our NextRoll Cookie Consent Banner.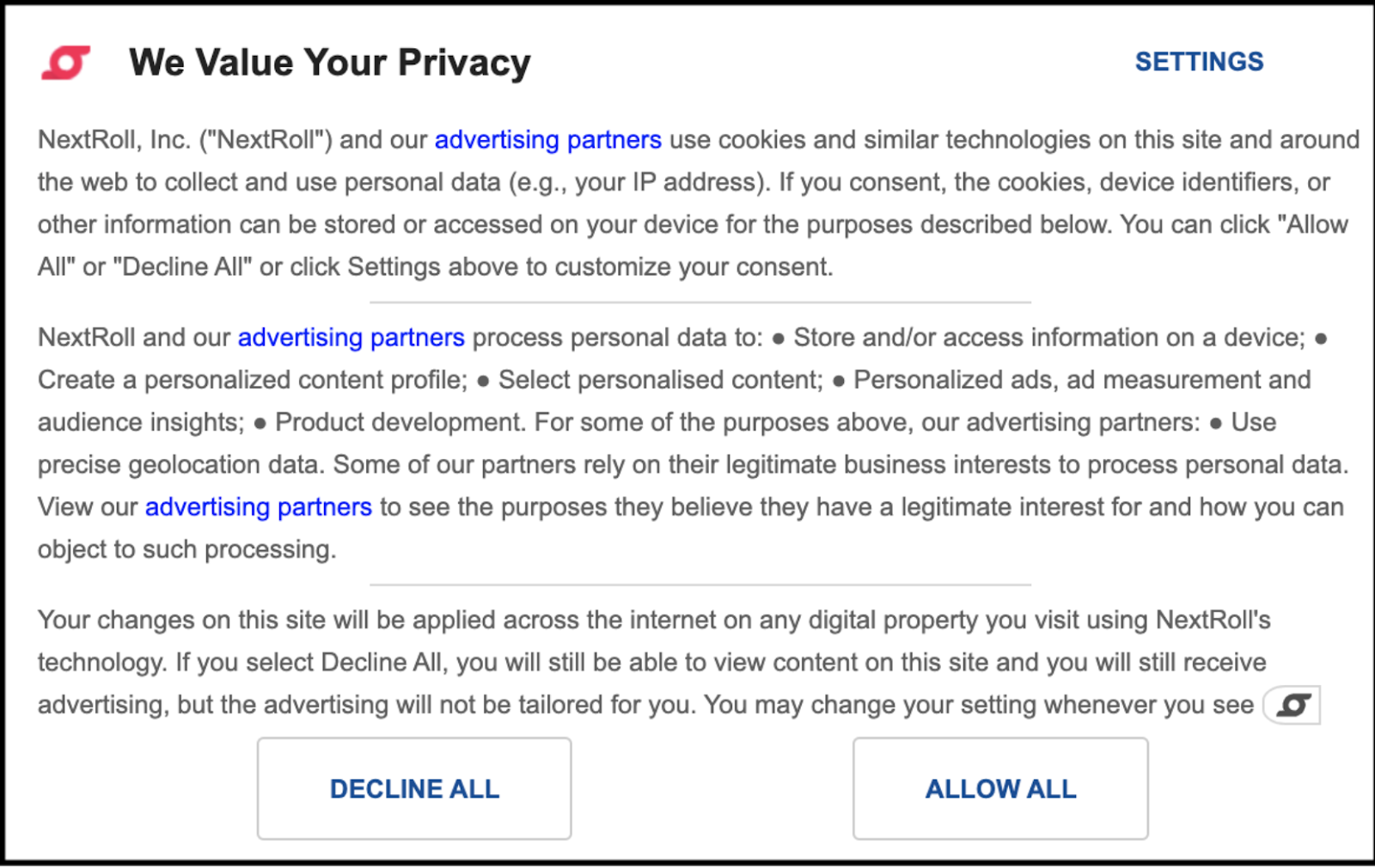 Notice Content
The content of your notice should be clear enough for any user to understand their options, which services and vendors are going to be tracking them, and why.
Example: We and our partners use technology such as cookies on our site to personalize content and ads, provide social media features, and analyze our traffic. Click below to consent to the use of this technology across the web.
For NextRoll in particular:
Reference the words "advertising" or "ads", as well as "targeting" or "personalization". These are the primary purposes for which NextRoll processes personal data, so visitors to your site[s] should be clearly aware of this purpose.
Reference NextRoll and link to our Privacy Policy (https://www.nextroll.com/privacy). This reference doesn't need to be on the first page of your notice, it can be on a second page you link to, but we want to make sure that your users can easily find out that we are collecting data from them as well as how to exercise their choices with us.
TCFv2.0 Compliance
TCF v2.0 is a Transparency and Consent Framework built by the International Advertising Bureau (EU) that enables consumers to grant or withhold consent.
NextRoll requires its customers to use TCFv2.0 compliant banner. Here is the list of TCFv2.0 approved CMP's.
You can also use the default NextRoll Cookie Consent Banner, which is TCFv2.0 compliant.
Pixel Firing Sequencing
To make sure the user has had a chance to exercise consent, we need to guarantee that they are presented with the visual notice before any tracking occurs.
For this, make sure you're waiting for a user action (click on "Yes" or "Allow Cookies") before you deploy the NextRoll Pixel.
Quickstart Resources
Here's a checklist to help make sure your banner is meets our best practices:
Visual Notice: Banner must be easy to see.
Notice Content:

"NextRoll" must be listed somewhere in the banner.
State that cookies are being used for advertising purposes.

TCF v2.0 Compliance: Banner must meet the TCF v2.0 standard.
Sequence: Consent must be collected prior to collecting data.