We have created a new cookie consent tool to help you comply with recent regulatory requirements for your NextRoll, Inc services. Our tool is designed to easily let your visitors know why and how cookies and other tracking technologies are used. The visitor will then have to either Accept or Reject the tracking activity.
This banner will appear in the bottom right corner when a user lands on your site: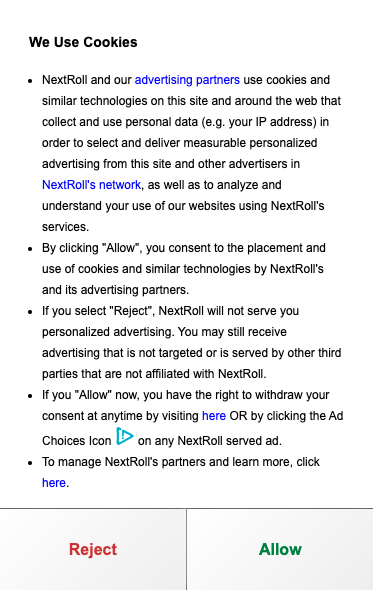 If the user navigates to another page on the site without giving the consent. The user will see the following banner: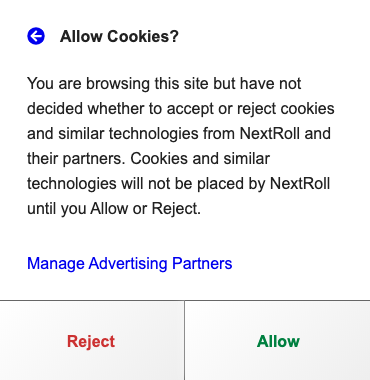 When a user clicks Manage Advertising Partners, they'll see the following page where they can see more information and customize ad preferences:

When you choose our cookie consent tool, it will be implemented automatically through the same code you use to place your NextRoll Pixel. You also have the option to use a custom tool or a third party tool, which will require a review period and approval.
Our tool is available in English, Dutch, French, German, Italian, Japanese, and Spanish, based on your visitors' browser.
The NextRoll tool doesn't support custom CSS or any other custom changes at this time.
Note: The NextRoll tool gathers consent for our cookie, our exchange partners through which we display your ads, and measurement and fraud tools such as Pixalate. If you have other tracking tools on your site, especially those which use cookies, you may need to find alternative tools that can cover consent for those tools.
How to get the consent tool
If you're new to NextRoll:
You'll see a prompt to install your NextRoll Pixel at the bottom of your setup page. Click Get My Pixel.
>Select the option to use the NextRoll cookie consent tool.
Save.
Follow the steps to install your pixel on your site.
Click Done.
If you're an existing NextRoll client:
Log in.
You'll see an alert message at the top of your page.
Select the option to use the NextRoll cookie consent tool.
You'll be taken to GDPR Settings. Make sure the NextRoll tool is selected.
Click Update

.