Legal Note: This is not legal advice, but rather guidelines based on the current regulatory activity in the European Union (EU), the United Kingdom (UK), Brazil (BR), and NextRoll's services. The guidelines may change over time to reflect updated best practices. You should consult with your own counsel, privacy professionals, and/or internal resources to determine a comprehensive and appropriate cookie consent solution for your business and your marketing activities.
We have created a new cookie consent banner to help you comply with recent regulatory requirements for your NextRoll, Inc services. Our banner is designed to easily let your visitors know why and how cookies and other tracking technologies are used. The visitor will then have to either Allow or Decline the tracking activity.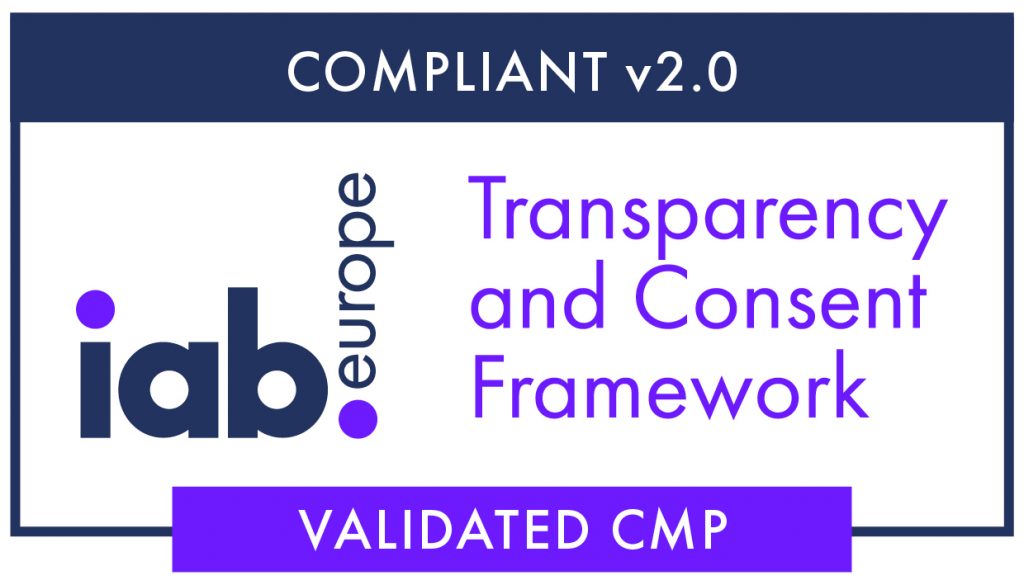 The updated cookie consent banner includes:
Support for consumer privacy settings under GDPR, ePrivacy Directive, and

Brazilian Data Protection Law, the Lei Geral de Proteção de Dados Pessoais ("LGPD")

.

If you are an existing user of the NextRoll Cookie Consent Banner. The same AdRoll Pixel present on your website will power consent management with no further changes.

IAB and non-IAB vendor management capabilities differentiation on the second layer.
The new TCF v2.0 functionality delivers:
Better Transparency: We want to support consumers' privacy preferences under GDPR, ePrivacy Directive, and

LGPD

.

TCF v2.0 has updated purposes and features to help consumers understand the usage of their data on the first layer of the banner.

Consumer Controls: Our implementation makes it easy for consumers to allow or decline cookies at any given time of their activity on the advertiser's website through a persistent icon.
User Experience: The new layout and design are much more intuitive and provide a great balance between consumer choice and customer requirements.
This banner will appear in the bottom right corner when a user lands on your site: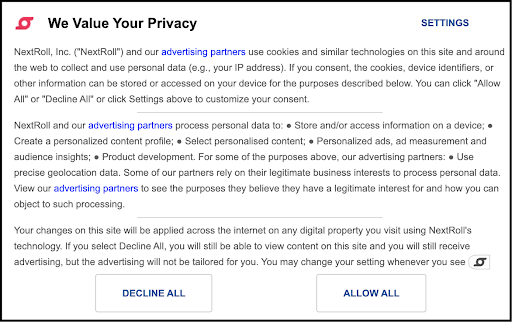 If the user navigates to another page on the site without giving consent, the user will see the above banner until proper consent is collected.
When a user clicks Advertising Partners or Settings, they'll see the following page where they can see more information and customize ad preferences. With the recent compliance with the IAB TCF v2.0 framework, your visitors will have more transparency in the data collection and processing activities. Visitors can exercise their consent based on Purpose and/or Partner:
As part of following the IAB EU TCF v2.0 guidelines, the cookie consent banner comes with a persistent icon that allows the users to modify their consent preferences at any given time of their activity on your website. The persistent icon is shown below. The user can click on the icon and change the consent settings with Allow or Decline the tracking activity. The user can also customize their consent by allowing selected partners. You can change the position of the persistent icon by following these instructions.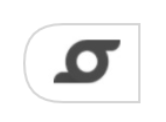 When you choose our cookie consent banner, it will be implemented automatically through the same code you use to place your NextRoll Pixel. You also have the option to use a custom banner or a third-party banner, which will require a review period and approval.
Our banner is available in English, Dutch, French, German, Italian, Japanese, Spanish, and Portuguese based on your visitors' browser.
The NextRoll banner doesn't support custom CSS or any other custom changes at this time.
Note: The NextRoll banner gathers consent for our cookie, our exchange partners through which we display your ads, and measurement and fraud tools such as Pixalate. If you have other tracking tools on your site, especially those which use cookies, you may need to find alternative tools that can cover consent for those tools.
Implement the Consent Banner
If you're new to AdRoll:
You'll see a prompt to select the Consent Banner during onboarding

Select the option to use the NextRoll cookie consent banner

Save

Follow the steps to install your pixel on your site

Click Done
If you're an existing NextRoll client:
Log in

You'll see an alert message at the top of your page

Select the option to use the NextRoll cookie consent banner

You'll be taken to

GDPR Settings

. Make sure the NextRoll banner is selected

Click Update
Frequently Asked Questions
For all frequently asked questions, check out our NextRoll Cookie Consent Banner FAQ article.