Through our Constant Contact integration tool, you can sync your Constant Contact email lists directly from Constant Contact to the AdRoll dashboard. Matched through our CRM data onboarding process, this tool helps you easily convert your lists into a targetable audience segment.
Please note: you must have at least 100 unique user emails in each of your lists for the CRM segment to successfully populate for web.
How do I create Constant Contact CRM segments?
To find the Constant Contact integration tool go to "Integrations" in settings. Once integrated, each list selected will populate as its own segment in the Audience tab of your AdRoll dashboard.
Activating the Constant Contact Integration
1. Go to "Integrations".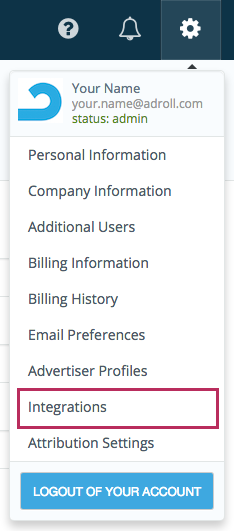 2. Click "Authenticate with Constant Contact".
3. Enter your Constant Contact username and password.
4. A prompt will appear saying that "Integration Localhost would like to access and/or update your Constant Contact account". Click "Allow."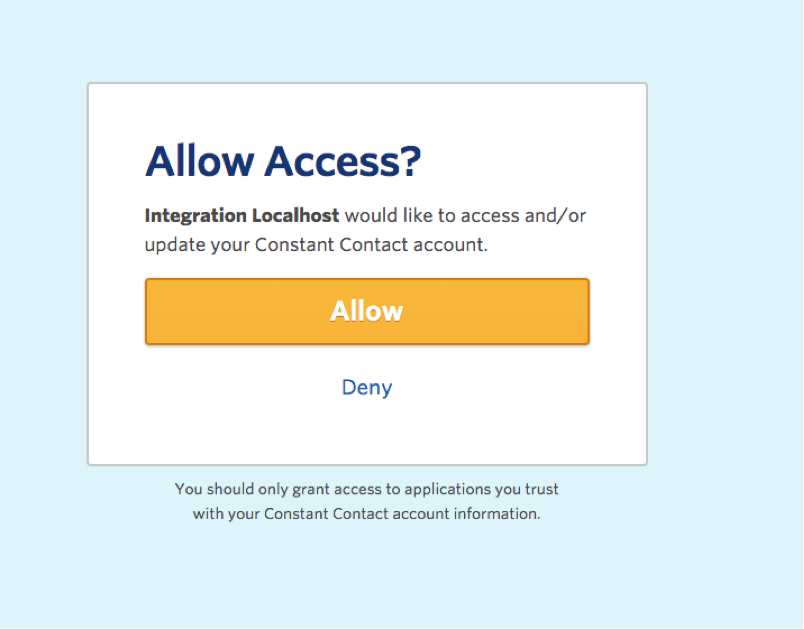 5. Klik op "Lijsten selecteren" om aan te geven welke lijsten (indien niet alle) u wilt importeren als CRM-segment.
6. Sla op!
Best Practices for Constant Contact CRM Segments
To learn how to create and manage your lists within Constant Contact, click here. Below we outline some tips and considerations to take when preparing your lists for CRM data onboarding.
Uw lijsten moeten minimaal 100 e-mails bevatten om een goed resultaat te krijgen.
Gebruik zoveel mogelijk persoonlijke e-mailadressen,  want het percentage overeenstemmingen is dan hoger.
Zorg dat uw e-maildatabase actueel is. Het kan nuttig zijn om het e-mailadres van gebruikers te verifiëren tijdens hun registratie, zodat u zeker weet dat zij een actief e-mailadres doorgeven.
Overweeg om CRM-segmenten te combineren met andere types segmenten (link naar artikelen over andere segmenten) voor nog betere resultaten. Denk eraan: hoe groter de doelgroep van uw campagne, hoe groter de optimalisatie die wij kunnen uitvoeren!
When will my Constant Contact CRM segment(s) be ready to use in my campaigns?
Your Constant Contact CRM segment may not appear on your dashboard immediately. We will begin the matching process for new lists within 6 hours. Any new emails added after the process has begun may take up to 2 weeks to be matched. Contact segments will be automatically named and start with constant-contact.
After your email list appears the cookie matching begins. Give your Constant Contact segment(s) up to 7 days to cookie match for both web and Facebook before adding it to any campaign(s).
Please read on for more detail on what to expect with your Constant Contact segment(s).
Once integrated, we will pull new emails from Constant Contact every 6 days, keeping your Constant Contact CRM segment up to date as you work with your lists.
 Once pulled, the matching process takes up to 7 days.
Voor adverteerders uit de V.S. kan CRM zowel op het internet als op Facebook worden gelanceerd. We bevelen aan om waar mogelijk e-mailadressen uit de V.S. te gebruiken. Het percentage overeenstemmingen zal altijd veel groter zijn.
Buiten de V.S. zijn de resultaten van CRM-segmenten in internetcampagnes beperkt. We werken aan de uitbreiding van deze functie, maar ondertussen raden we adverteerders van buiten de V.S. aan om CRM-retargeting op Facebook te gebruiken.
CRM-segmenten kunnen niet worden bewerkt nadat ze werden gemaakt.
De overeenstemming van cookies op Facebook neemt minder dan een dag in beslag. 
De procedure voor overeenstemming van cookies kan maximaal 7 dagen duren, afhankelijk van de grootte van uw e-maillijst. Houd daar rekening mee bij het plannen van uw CRM-campagne.
When your segment appears in your Audience tab, we'll display the number of emails originally uploaded through the Constant Contact integration.
To see how many emails were successfully matched for web or Facebook, click on the name of your Constant Contact segment in the Audience tab. 

Totaal aantal webbezoekers: totaal aantal actieve cookies die overeenstemmen voor web.
Nieuwe webbezoekers: cookies die overeenstemmen binnen de opgegeven afgebakende periode.
Totaal aantal Facebook-bezoekers: Totaal aantal actieve cookies die overeenstemmen voor Facebook.