Event segments are useful if you want to build an audience based on click events rather than pages. Created by adding an additional bit of code to the onClick attribute of your JavaScript button, this type of segment is particularly useful for tracking events like form submissions.  
Gebruiken voor:
JavaScript-knoppen

Tracking conversions that complete on a separate website; common with event promotion

 
Hoe maak ik een eventsegment?
Go to the Audience section of your dashboard: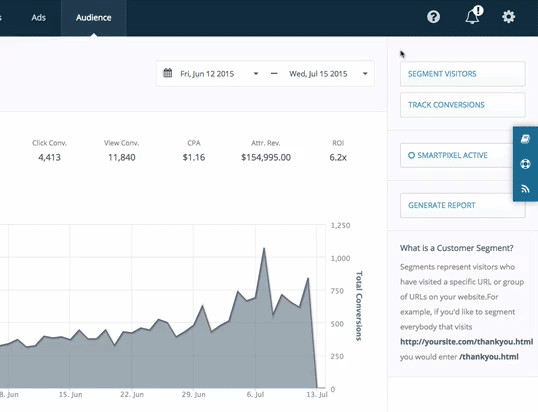 Bepaal of de gebeurtenis een interessant bezoekerstype ("Segment bezoekers") definieert of een bereikt doel vertegenwoordigt ("Track conversies").

Create a segment that will be associated with the event. Name the segment so that you can easily recognize it—for example, Submit_Form.

Find a link that reads copy ID to clipboard below the space where you entered your segment name. This pulls a unique numeric segment ID to be used as the URL rule placeholder for the segment you are creating (and later to prepare your script).

Voorlopig gebruikt u dit ID in segmenttype en -regel. Zorg ervoor dat u "URL" als het segmenttype geselecteerd heeft, voer een "+" in en plak dan het nummer van het segment-ID in het overeenkomstige veld. Hier ziet u een voorbeeld:

Geef de gewenste duurtijd —het aantal dagen dat de gekwalificeerde bezoeker een actief deel van het segment zou moeten blijven.

Sla op.
Bereid het script voor
Hieronder staat het script, genaamd een eventpixel, dat u nodig zal hebben om de pagina's in kwestie te verbinden met uw eventsegment. Update de segmentpixel door de segment_ID tussen aanhalingstekens te vervangen door de unieke segment-ID die we voor u gegenereerd hebben.
Als u de segment-ID uit het bovenstaande voorbeeld gebruikt, ziet de volledige eventpixel er als volgt uit:
Activate the event pixel
The event pixel should be triggered through the onClick function of the button on the page(s) where the event occurs. As an option, many of our advertisers place the script in an external JavaScript file that gets called during the click event.
De best practice zal hier afhangen van de bestaande structuur van de website. Raadpleeg uw technisch team.
Counting all clicks
Event segments are triggered when the user click the button, regardless of whether the action successfully goes through. For example, when a user attempts to submit an incomplete form with required fields, they will count as a click even if the form throws an error.