Through our Constant Contact integration tool, you can sync your Constant Contact email lists directly from Constant Contact to the AdRoll dashboard. Matched through our CRM data onboarding process, this tool helps you easily convert your lists into a targetable audience segment.
Please note: you must have at least 100 unique user emails in each of your lists for the CRM segment to successfully populate for web.
How do I create Constant Contact CRM segments?
To find the Constant Contact integration tool go to "Integrations" in settings. Once integrated, each list selected will populate as its own segment in the Audience tab of your AdRoll dashboard.
Activating the Constant Contact Integration
1. Go to "Integrations".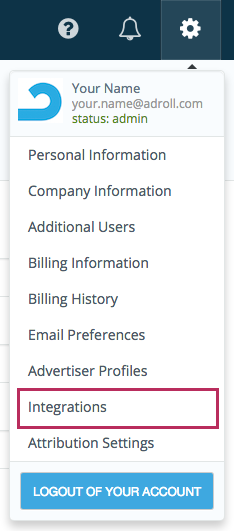 2. Click "Authenticate with Constant Contact".
3. Enter your Constant Contact username and password.
4. A prompt will appear saying that "Integration Localhost would like to access and/or update your Constant Contact account". Click "Allow."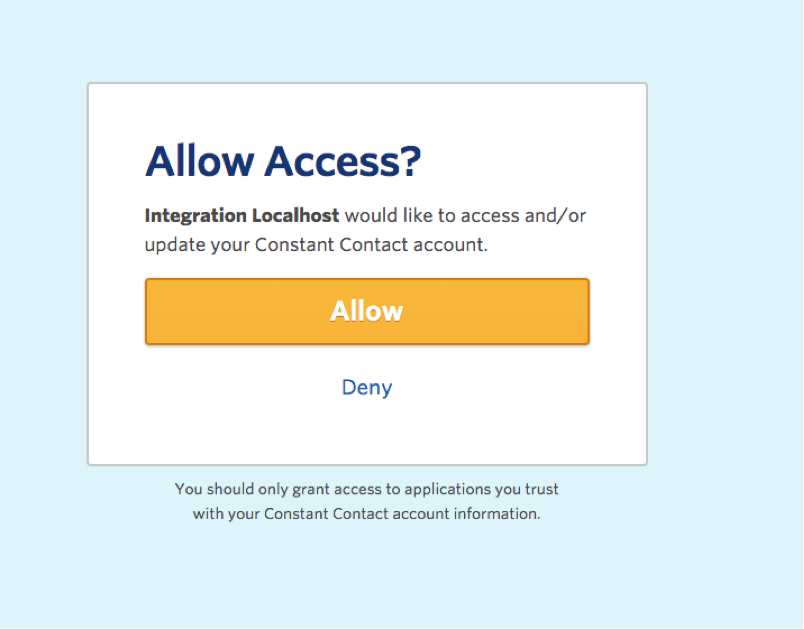 5. Fai clic su "Seleziona elenchi" per specificare quali (o tutti) elenchi vuoi importare come segmento CRM.
6. Salva.
Best Practices for Constant Contact CRM Segments
To learn how to create and manage your lists within Constant Contact, click here. Below we outline some tips and considerations to take when preparing your lists for CRM data onboarding.
Gli elenchi devono contenere almeno 100 indirizzi e-mail per garantirti le performance migliori.
Se possibile, utilizza indirizzi e-mail personali, poiché il tasso di corrispondenza è maggiore.
Assicurati che il tuo database di indirizzi e-mail sia aggiornato. L'aggiunta di una fase di convalida dell'indirizzo e-mail durante l'iscrizione può risultare particolarmente utile per assicurarsi che gli utenti stiano fornendo indirizzi e-mail attivi.
Considera l'ipotesi di combinare i segmenti CRM con altri tipi di segmenti (link ad articoli su altri segmenti) per migliorare le performance. Ricorda che più grande è il pubblico della tua campagna, migliore sarà la nostra ottimizzazione.
When will my Constant Contact CRM segment(s) be ready to use in my campaigns?
Your Constant Contact CRM segment may not appear on your dashboard immediately. We will begin the matching process for new lists within 6 hours. Any new emails added after the process has begun may take up to 2 weeks to be matched. Contact segments will be automatically named and start with constant-contact.
After your email list appears the cookie matching begins. Give your Constant Contact segment(s) up to 7 days to cookie match for both web and Facebook before adding it to any campaign(s).
Please read on for more detail on what to expect with your Constant Contact segment(s).
Once integrated, we will pull new emails from Constant Contact every 6 days, keeping your Constant Contact CRM segment up to date as you work with your lists.
 Once pulled, the matching process takes up to 7 days.
Per gli inserzionisti degli Stati Uniti, il CRM può essere lanciato sia sul Web che su Facebook. Ove possibile, consigliamo di utilizzare indirizzi e-mail con sede negli Stati Uniti poiché hanno un tasso di corrispondenza maggiore di quelli non statunitensi.
All'esterno degli Stati Uniti, la funzionalità dei segmenti CRM nelle campagne Web è limitata. Stiamo lavorando per ottimizzarla, ma consigliamo agli inserzionisti di altri paesi di optare per il retargeting CRM su Facebook.
Una volta creati, i segmenti CRM non possono essere modificati.
Il processo di abbinamento dei cookie su Facebook richiederà meno di un giorno. 
Il processo di abbinamento dei cookie sul Web richiede fino a 7 giorni, a seconda delle dimensioni del tuo elenco di indirizzi e-mail. Assicurati di tenere conto di ciò quando pianifichi la tua campagna CRM.
When your segment appears in your Audience tab, we'll display the number of emails originally uploaded through the Constant Contact integration.
To see how many emails were successfully matched for web or Facebook, click on the name of your Constant Contact segment in the Audience tab. 

Visitatori Web totali: cookie attivi totali abbinati per il Web.
Nuovi visitatori Web totali: cookie abbinati nell'intervallo di date specificato.
Visitatori Facebook totali: cookie attivi totali abbinati per Facebook.