Sospensione della campagna con un clic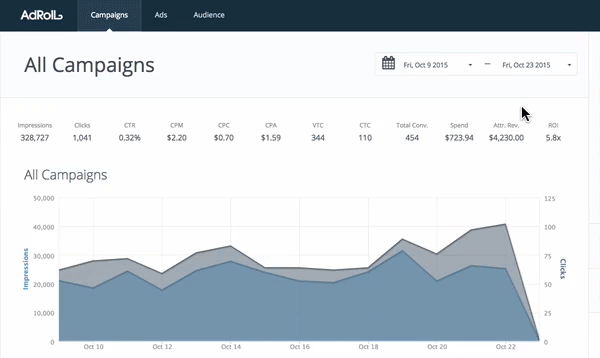 1. Vai alla scheda "Campagne" nella dashboard di AdRoll.
2. Scroll down and hover your mouse cursor over the campaign you want to pause.
3. Fai clic sul pulsante "Metti in pausa" che appare.
4. Make sure that your campaign status shows as paused.
Cosa succede quando metto in pausa una campagna?
When you pause a campaign, you are temporarily suspending that campaign's activity. This is not permanent; you can also un-pause the campaign at any time from your dashboard by clicking the "Resume" button that appears when you hover over the campaign.
Se riattivi la campagna, questa verrà ripresa immediatamente.
Le campagne messe in pausa vengono considerate nel saldo richiesto?
Il saldo richiesto è la somma dei budget delle campagne attive. Per rivedere come funziona la fatturazione, fai clic qui.
Paused campaigns do count towards your required balance. This is so when you un-pause we have the credit needed to immediately resume your campaign.
If you need to lower your required balance or are not planning on resuming your campaign any time soon, consider completing your campaign. Ads are saved in your Ads library so you can relaunch easily if you change your mind.