Event segments are useful if you want to build an audience based on click events rather than pages. Created by adding an additional bit of code to the onClick attribute of your JavaScript button, this type of segment is particularly useful for tracking events like form submissions.  
Da usare per:
Pulsanti JavaScript

Tracking conversions that complete on a separate website; common with event promotion

 
Come posso creare un segmento di evento?
Go to the Audience section of your dashboard: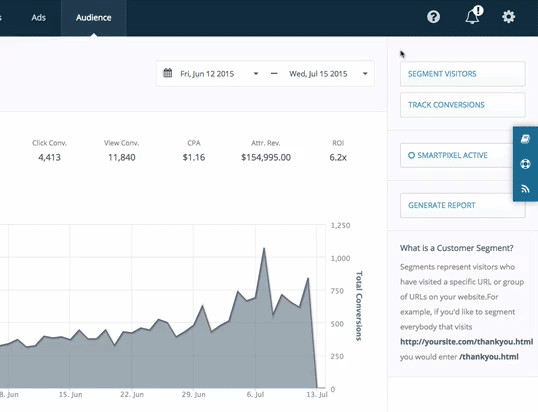 Determina se l'evento definisce un tipo di visitatori di interesse ("Segmenta visitatori") o rappresenta un obiettivo completato ("Traccia conversioni").

Create a segment that will be associated with the event. Name the segment so that you can easily recognize it—for example, Submit_Form.

Find a link that reads copy ID to clipboard below the space where you entered your segment name. This pulls a unique numeric segment ID to be used as the URL rule placeholder for the segment you are creating (and later to prepare your script).

Per ora, userai questo ID in Tipo e regola segmento. Assicurati di aver selezionato "URL" come tipo di segmento, inserisci un segno "+" e incolla l'ID segmento nel campo corrispondente. Ecco un esempio:

Immetti la durata desiderata, ovvero il numero di giorni per cui il visitatore idoneo rimarrà parte attiva del segmento.

Salva.
Prepara lo script
Di seguito trovi lo script, denominato pixel dell'evento, che ti servirà per associare l'evento in questione al segmento dell'evento. Aggiorna il pixel del segmento sostituendo la variabile segment_ID tra virgolette con l' ID segmento univoco che abbiamo generato per te.
Usando l'ID segmento dell'esempio qui sopra, il pixel dell'evento completato avrà questo aspetto:
Activate the event pixel
The event pixel should be triggered through the onClick function of the button on the page(s) where the event occurs. As an option, many of our advertisers place the script in an external JavaScript file that gets called during the click event.
Qui la best practice dipenderà dalla struttura esistente del sito. Consulta il tuo team tecnico.
Counting all clicks
Event segments are triggered when the user click the button, regardless of whether the action successfully goes through. For example, when a user attempts to submit an incomplete form with required fields, they will count as a click even if the form throws an error.