Through our Constant Contact integration tool, you can sync your Constant Contact email lists directly from Constant Contact to the AdRoll dashboard. Matched through our CRM data onboarding process, this tool helps you easily convert your lists into a targetable audience segment.
Please note: you must have at least 100 unique user emails in each of your lists for the CRM segment to successfully populate for web.
How do I create Constant Contact CRM segments?
To find the Constant Contact integration tool go to "Integrations" in settings. Once integrated, each list selected will populate as its own segment in the Audience tab of your AdRoll dashboard.
Activating the Constant Contact Integration
1. Go to "Integrations".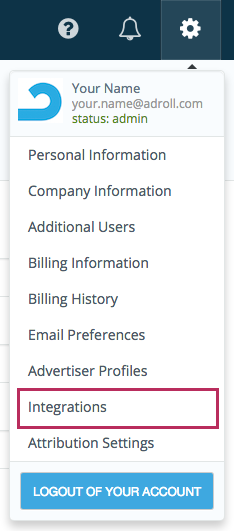 2. Click "Authenticate with Constant Contact".
3. Enter your Constant Contact username and password.
4. A prompt will appear saying that "Integration Localhost would like to access and/or update your Constant Contact account". Click "Allow."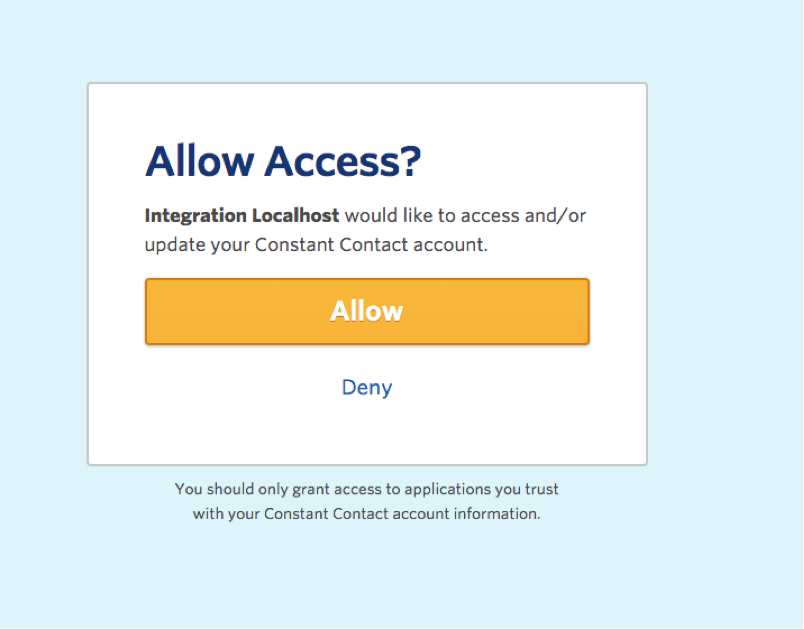 5. Cliquez sur "Sélectionner des listes" pour choisir la ou les listes à importer en tant que segment CRM.
6. Enregistrez !
Best Practices for Constant Contact CRM Segments
To learn how to create and manage your lists within Constant Contact, click here. Below we outline some tips and considerations to take when preparing your lists for CRM data onboarding.
Pour une performance optimale, votre liste devrait contenir un minimum de 100 adresses e-mail.
Quand cela vous est possible, utilisez des adresses e-mail privées car leur taux de correspondance est plus élevé.
Assurez-vous que votre base de données est actualisée — ajouter une étape de validation d'adresses e-mail lors de l'inscription peut s'avérer utile car les utilisateurs saisissent ainsi des adresses valides et actives.
Envisagez de combiner les segments CRM avec d'autres types de segment (consultez la rubrique Segment) afin d'optimiser les performances. Gardez à l'esprit que plus l'audience de votre campagne est importante, meilleure est notre optimisation !
When will my Constant Contact CRM segment(s) be ready to use in my campaigns?
Your Constant Contact CRM segment may not appear on your dashboard immediately. We will begin the matching process for new lists within 6 hours. Any new emails added after the process has begun may take up to 2 weeks to be matched. Contact segments will be automatically named and start with constant-contact.
After your email list appears the cookie matching begins. Give your Constant Contact segment(s) up to 7 days to cookie match for both web and Facebook before adding it to any campaign(s).
Please read on for more detail on what to expect with your Constant Contact segment(s).
Once integrated, we will pull new emails from Constant Contact every 6 days, keeping your Constant Contact CRM segment up to date as you work with your lists.
 Once pulled, the matching process takes up to 7 days.
Pour les annonceurs américains, nous pouvons lancer des campagnes CRM sur le Web ou Facebook. Nous recommandons, dans la mesure du possible, d'utiliser des adresses basées aux États-Unis car le taux de correspondance est meilleur que pour les adresses hors États-Unis.
En dehors des États-Unis, la fonctionnalité des segments CRM dans les campagnes Web est limitée. Nous nous efforçons de l'optimiser mais recommandons à nos annonceurs hors États-Unis d'opter plutôt pour un reciblage CRM sur Facebook.
Les segments CRM ne peuvent être modifiés une fois créés.
La correspondance des cookies avec Facebook prendra moins d'un jour. 
La correspondance des cookies avec le Web peut durer jusqu'à 7 jours, selon la taille de votre liste de diffusion. Prenez ce délai en considération lorsque vous planifiez des campagnes CRM.
When your segment appears in your Audience tab, we'll display the number of emails originally uploaded through the Constant Contact integration.
To see how many emails were successfully matched for web or Facebook, click on the name of your Constant Contact segment in the Audience tab. 

Nombre total de visiteurs sur le Web : nombre total de cookies actifs ayant trouvé correspondance sur le Web.
Nombre total de nouveaux visiteurs Web : nombre de cookies ayant trouvé correspondance au cours de la période spécifiée.
Nombre total de visiteurs sur Facebook : nombre total de cookies actifs ayant trouvé correspondance sur Facebook.