Event segments are useful if you want to build an audience based on click events rather than pages. Created by adding an additional bit of code to the onClick attribute of your JavaScript button, this type of segment is particularly useful for tracking events like form submissions.  
À utiliser pour :
Boutons JavaScript

Tracking conversions that complete on a separate website; common with event promotion

 
Comment créer un segment Événement ?
Go to the Audience section of your dashboard: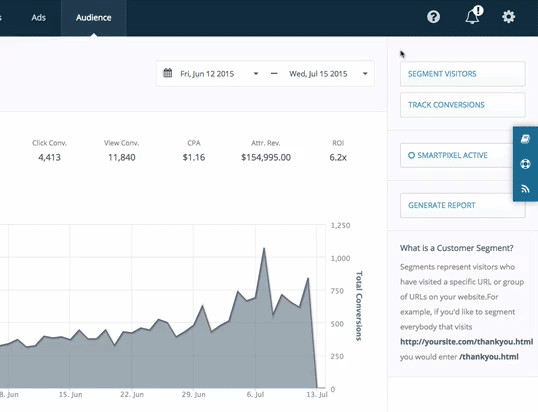 Déterminez si l'événement définit un type de visiteur intéressant ("Segment visiteurs") ou s'il représente un objectif atteint ("Suivi de conversions").

Create a segment that will be associated with the event. Name the segment so that you can easily recognize it—for example, Submit_Form.

Find a link that reads copy ID to clipboard below the space where you entered your segment name. This pulls a unique numeric segment ID to be used as the URL rule placeholder for the segment you are creating (and later to prepare your script).

Pour l'instant, vous utiliserez cette ID sous Règle et type de segment. Après avoir vérifié que vous avez sélectionné "URL" en tant que type de segment, saisissez un "+", puis collez le numéro d'ID de segment dans le champ correspondant. Voici un exemple :

Saisissez la durée désirée, à savoir le nombre de jours pendant lesquels le visiteur qualifié fera activement partie du segment.

Enregistrez.
Préparation du script
Trouvez en dessous le script, appelé pixel d'événement, dont vous aurez besoin pour relier l'événement concerné à votre segment Événement. Modifiez le pixel de segment en remplaçant segment_ID entre guillemets par l'ID de segment unique que nous avons générée pour vous.
Si vous utilisez l'ID de segment de l'exemple ci-dessus, le pixel de l'événement complété ressemblera à cela :
Activate the event pixel
The event pixel should be triggered through the onClick function of the button on the page(s) where the event occurs. As an option, many of our advertisers place the script in an external JavaScript file that gets called during the click event.
La meilleure pratique dans ce cas dépendra de la structure actuelle du site Web. Demandez conseil à votre équipe technique.
Counting all clicks
Event segments are triggered when the user click the button, regardless of whether the action successfully goes through. For example, when a user attempts to submit an incomplete form with required fields, they will count as a click even if the form throws an error.