Through our Constant Contact integration tool, you can sync your Constant Contact email lists directly from Constant Contact to the AdRoll dashboard. Matched through our CRM data onboarding process, this tool helps you easily convert your lists into a targetable audience segment.
Please note: you must have at least 100 unique user emails in each of your lists for the CRM segment to successfully populate for web.
How do I create Constant Contact CRM segments?
To find the Constant Contact integration tool go to "Integrations" in settings. Once integrated, each list selected will populate as its own segment in the Audience tab of your AdRoll dashboard.
Activating the Constant Contact Integration
1. Go to "Integrations".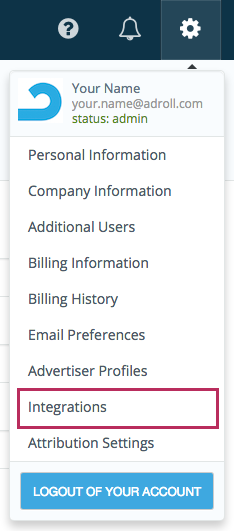 2. Click "Authenticate with Constant Contact".
3. Enter your Constant Contact username and password.
4. A prompt will appear saying that "Integration Localhost would like to access and/or update your Constant Contact account". Click "Allow."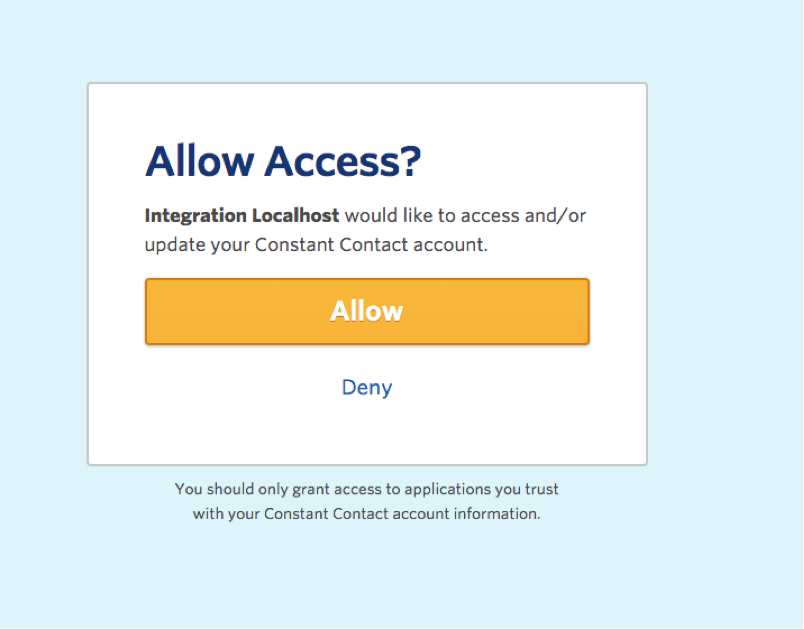 5. Haga clic en "Seleccionar listas" para especificar las listas que desea importar como segmento CRM.
6. Guarde los cambios.
Best Practices for Constant Contact CRM Segments
To learn how to create and manage your lists within Constant Contact, click here. Below we outline some tips and considerations to take when preparing your lists for CRM data onboarding.
Para lograr un buen rendimiento, sus listas deberían contener como mínimo 100 correos electrónicos.
Siempre que sea posible, utilice correos electrónicos personales, ya que ofrecen una tasa mayor de coincidencias.
Asegúrese de que la base de datos de correo electrónico esté actualizada; puede resultar de gran ayuda añadir un paso de validación de las direcciones de correo electrónico en el proceso de inscripción a fin de garantizar que los usuarios proporcionan direcciones de correo electrónico activas.
Considere la posibilidad de combinar segmentos de CRM con otros tipos de segmento (enlace a otros artículos sobre segmentos) para impulsar el rendimiento. Recuerde que, cuanto mayor sea la audiencia de una campaña, más óptimo será su rendimiento.
When will my Constant Contact CRM segment(s) be ready to use in my campaigns?
Your Constant Contact CRM segment may not appear on your dashboard immediately. We will begin the matching process for new lists within 6 hours. Any new emails added after the process has begun may take up to 2 weeks to be matched. Contact segments will be automatically named and start with constant-contact.
After your email list appears the cookie matching begins. Give your Constant Contact segment(s) up to 7 days to cookie match for both web and Facebook before adding it to any campaign(s).
Please read on for more detail on what to expect with your Constant Contact segment(s).
Once integrated, we will pull new emails from Constant Contact every 6 days, keeping your Constant Contact CRM segment up to date as you work with your lists.
 Once pulled, the matching process takes up to 7 days.
En el caso de los anunciantes de Estados Unidos, CRM puede lanzarse en la Web y en Facebook. Si es posible, se recomienda utilizar direcciones de correo electrónico de Estados Unidos ya que la posibilidad de establecer correspondencias es mayor que con las direcciones que no son de Estados Unidos.
Fuera de Estados Unidos, los segmentos de CRM tienen una funcionalidad limitada en las campañas web. Estamos trabajando para desarrollar esta funcionalidad, pero recomendamos que los anunciantes que no sean de Estados Unidos adopten el retargeting de CRM en Facebook.
Los segmentos de CRM no se pueden editar una vez creados.
El proceso de búsqueda de correspondencias de cookies en Facebook tardará menos de un día. 
El proceso de búsqueda de correspondencias en la Web tarda unos 7 días, en función del tamaño de la lista de correos electrónicos. Debe tener en cuenta este factor a la hora de planificar la campaña de CRM.
When your segment appears in your Audience tab, we'll display the number of emails originally uploaded through the Constant Contact integration.
To see how many emails were successfully matched for web or Facebook, click on the name of your Constant Contact segment in the Audience tab. 

Total de visitantes web: número total de cookies activas para las que se ha encontrado una correspondencia para la Web.
Visitantes web nuevos: cookies para las que se ha encontrado una correspondencia en el rango de fechas especificado.
Total de visitantes Facebook: número total de cookies activas para las que se ha encontrado una correspondencia para Facebook.