What is a granular conversion report?
As the name suggests, your granular conversion report (GCR) shows you granular information about your conversions, such as when your conversion occurred and which ad the user saw or clicked on prior to converting. In addition to this default data, you can set up enhanced conversion tracking to get more granular insight into the context of each conversion recorded.
Make sure you have a conversion segment defined, or this report will not be helpful to you.
How do I generate a granular conversion report?
All reports are accessible through your dashboard. Click the "Generate Report" button in your right sidebar.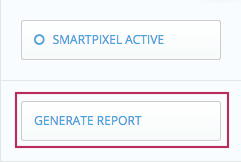 The GCR report is a nested report within the Profile Overview report type. What is reported within the GCR will depend on what you specify for start and end dates, displaying conversions that occurred within that date range.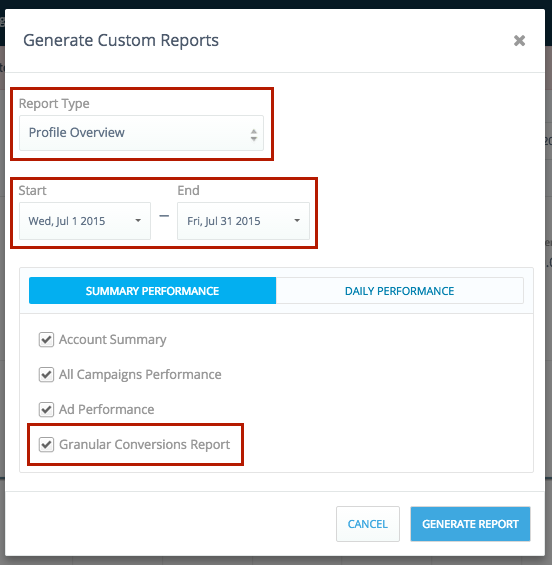 How do I read my granular conversion report?
Your GCR is actually fairly straightforward, once you understand what each of the columns mean. In order from left to right, the following information is reported in your GCR.
Conversion Time: When the conversion event happened (i.e. the user landed on your order confirmation page)
Conversion Type: There are two types of conversions, view-through-conversions (VTC) and click-through-conversions (CTC).

VTC: Someone saw your ad and returned independently to convert.
CTC: Someone clicked on your ad and returned to convert.

Campaign: Name of the campaign that served the converting ad.
AdGroup: Name of the AdGroup that served the converting ad.
Ad: Name of the ad that resulted in a conversion.
Segment: The targeted segment that resulted in a conversion.
Conversion Value: Revenue associated with the conversion (only populates if you either specify a fixed conversion value or have enhanced conversion tracking set up).
Country and City: If available (provided to us by the network; this is unavailable on Facebook campaigns) the country and city where the conversion happened.
Final Event: The last interaction the user had with your campaign before converting.
Final Event Timestamp: When the final event occurred.
Finally, any custom data that you define in your enhanced conversion tracking script will also be reported on your GCR as external data. In addition to order values, the most common variables passed back through enhanced conversion tracking are order ID and user ID. Examples of additional variables that you might be interested in passing are:
Membership type (for example if you have standard and VIP customers)
Promo codes used
Billing zipcodes
What types of information can I pass back?
You are welcome to pass back any information that provides you with more context for the conversion, so long as it cannot be used to identify a specific individual. This type of information is called Personally Identifiable Information (PII).
It is important that you do not pass back any personal identifiable information (PII) as it is a violation of user privacy and by agreeing to Terms of Service (required for all advertisers that use our platform) you agree to not do this.
Examples of information that is not considered PII:
Order values
ID de pedido
User ID (not emails)
Membership type
Promo codes used
Billing zipcodes
Examples of PII:
Email addresses
First or last names
Specific payment information
Street addresses
How do I set up enhanced conversion tracking?
To learn more about enhanced conversion tracking, click here.