When you launch your campaign, we need to review it first to make sure its ready for our partner networks. Learn more about our criteria for campaign approval.
Initial review of submitted campaigns or ads is completed within one business day. You'll know we've reviewed your campaign when your campaign status is no longer Pending.
Estados de revisión
Aprobado: el administrador de AdRoll ha aprobado el elemento y lo ha enviado a las redes apropiadas.

Pending: The item is under review and has neither been approved nor rejected yet.

Suspendido: el equipo de revisión ha suspendido el anuncio, generalmente a causa de conflictos con los requisitos de creatividad.

Rejected: The campaign is not compliant with site policy or requirements.

Finalizado: La fecha de finalización de la campaña ha pasado y ya no se pueden distribuir anuncios a través de ella. Puede eliminar la fecha de finalización o especificar una nueva para reanudar una campaña finalizada.
Once approved, your campaign or ads are submitted to our partner networks for a final review. If everything looks good, they then move forward with activation and you should begin to see the campaign serving impressions. Your campaign can begin serving as soon as 48 hours from launch.
AdRoll reserves the right to review approved campaigns at any given time. Our partner ad networks' policies and self-regulatory bodies' codes of conduct are constantly being reviewed and updated, and as such we may review active campaigns to ensure that they comply with current policies, codes, and legal requirements. AdRoll reserves the right to complete campaigns at any time that are no longer eligible to run. 
¿Cómo me indicarán que hay algunos puntos que debo resolver?
We'll email you if we need your attention on something we find during our review. Make sure you have campaign notifications activated. To check, head to Settings > Email Preferences.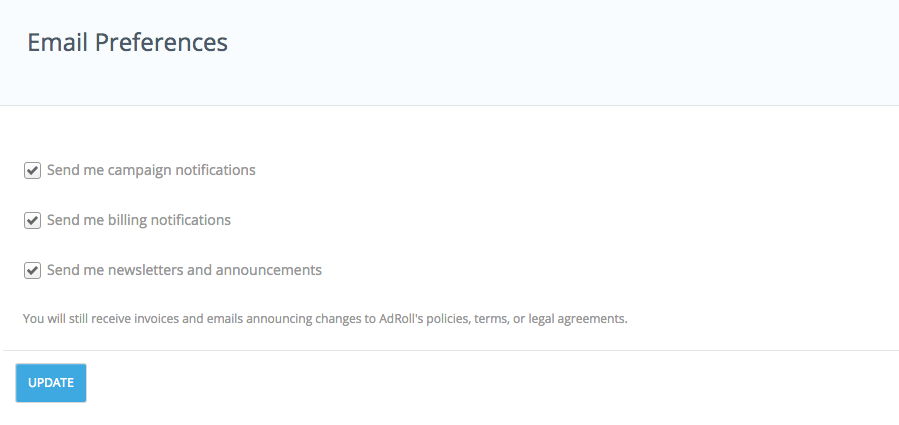 If you would prefer not to receive campaign notifications in email, that's ok too. These notifications are also saved in your dashboard's Message Center indicated by the bell icon.