Event segments are useful if you want to build an audience based on click events rather than pages. Created by adding an additional bit of code to the onClick attribute of your JavaScript button, this type of segment is particularly useful for tracking events like form submissions.  
Se utiliza para:
Botones JavaScript

Tracking conversions that complete on a separate website; common with event promotion

 
¿Cómo creo un segmento de evento?
Go to the Audience section of your dashboard: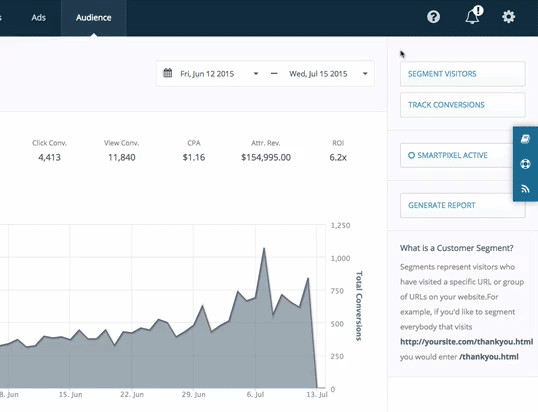 Determine si el evento define un tipo de visitante de interés (Segmentar visitantes) o representa un objetivo completado (Seguimiento de conversiones).

Create a segment that will be associated with the event. Name the segment so that you can easily recognize it—for example, Submit_Form.

Find a link that reads copy ID to clipboard below the space where you entered your segment name. This pulls a unique numeric segment ID to be used as the URL rule placeholder for the segment you are creating (and later to prepare your script).

De momento, utilizará esta ID en Tipo y regla de segmento. Asegúrese de que ha seleccionado "URL" como tipo de segmento, introduzca el carácter "+" y pegue el número de la ID de segmento en el campo correspondiente. A continuación le mostramos un ejemplo:

Especifique la duraciónque desee, que indica el número de días durante los que el visitante cualificado debería permanecer como parte activa del segmento.

Guarde los cambios.
Prepare el script
A continuación se muestra el script, denominado píxel de evento, que necesitará para vincular el evento en cuestión con el segmento de evento. Actualice el píxel de segmento. Para esto, sustituya el segment_ID entre comillas con el ID único de segmento que generamos para usted.
Utilizando la ID del segmento del ejemplo anterior, el píxel del evento completo es como el siguiente:
Activate the event pixel
The event pixel should be triggered through the onClick function of the button on the page(s) where the event occurs. As an option, many of our advertisers place the script in an external JavaScript file that gets called during the click event.
Aquí, la práctica más adecuada dependerá de la estructura existente en el sitio web. Consulte cuál es la mejor opción a su equipo técnico.
Counting all clicks
Event segments are triggered when the user click the button, regardless of whether the action successfully goes through. For example, when a user attempts to submit an incomplete form with required fields, they will count as a click even if the form throws an error.