Para poder mostrar sus anuncios en Facebook, debe enlazar la página de su empresa de Facebook con su cuenta de AdRoll.
There are two ways for you connect your Facebook page to AdRoll: when you're building out your first Facebook campaign, and through our integrations hub. Both processes are outlined below. 
Connecting your Facebook page through Integrations
Navigate to Settings > Integrations.

 

Select the Facebook button. 

Siga las indicaciones para conectarse a Facebook.
Conexión de su página de Facebook con AdRoll durante la creación de una campaña de Facebook
Log in to AdRoll and start creating your Facebook campaign. Refer to our post that walks you through setting up a Facebook or Instagram campaign if you need help with setting up your Facebook retargeting campaign. 

Follow the prompt to Connect to Facebook.

 

Si tiene varias páginas conectadas a su cuenta de Facebook, seleccione la página a la que desea otorgar acceso al anunciante de AdRoll.

 

Haga clic en Select (Seleccionar) para finalizar la conexión de la página a Facebook.
Connecting Your Instagram Account 
Preguntas frecuentes sobre Instagram
Can I run Instagram ads without connecting my Instagram account? Yes! With AdRoll, you can serve your campaign on Instagram without connecting your Instagram. This gives our advertisers without an account, or without access to their Instagram account the ability to run Instagram ads. 
Why connect my Instagram account? Connecting your account will give you the ability to monitor and manage comments on your Instagram ads. Additionally, the Instagram ad will be directly linked to your Instagram page, so users can easily add your account and follow you.  
How do I connect my Instagram account? By connecting your Instagram account to AdRoll, you'll have greater control over comments that you receive on your Instagram ads. To do this, you will need to create a Business Manager account with Facebook and to get your Instagram account. Click here to learn more about how to create a Business Manager account for your Instagram account. 
Tras conectarse a su página de Facebook, seleccione Connect Instagram Account (Conectar cuenta de Instagram) en la conexión de Facebook.

Enter your Instagram account ID and click Confirm

 

¡Ya está conectado!
¿Por qué necesita AdRoll acceso de anunciante?
Necesitamos acceder a su página de Facebook para crear los anuncios de Noticias/News Feed y obtener los datos que necesitamos para elaborar el informe sobre el rendimiento de la campaña. Si desea obtener más información sobre cómo gestionar roles de página (y las diferencias entre los niveles de acceso), consulte el artículo de soporte de Facebook que se encuentra en este enlace.
¿Tiene problemas para añadir su URL de Facebook?
Asegúrese de que la URL enviada se vincula con su página de empresa de Facebook. Las páginas de eventos o personales no funcionan.
If you have verified that the page you are trying to add is an eligible business page, but are still seeing an error, check for Country and Age restrictions on your Facebook business page.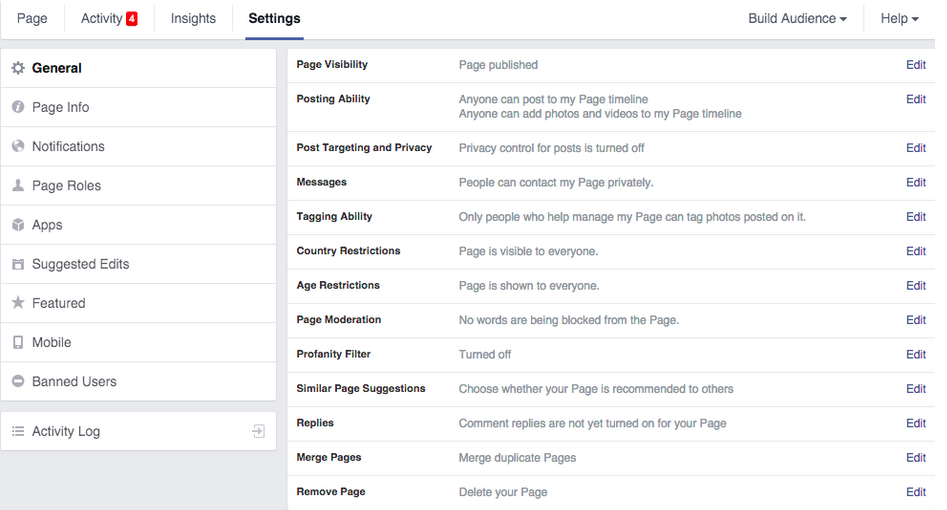 El retargeting no utiliza información demográfica. La discrepancia entre la página de empresa de Facebook y la configuración de la campaña de retargeting es lo que da lugar a un error.
Eliminación de restricciones
Inicie sesión en su página de empresa de Facebook.

Vaya a Settings (Configuración)

Haga clic en la pestaña "General"

Asegúrese de que las restricciones de país y edad muestran "Página visible para todos".

Once complete, country and age restriction settings should look like this: