AdRoll's Ecommerce Marketing Platform comes complete with a suite of free, powerful cross-channel attribution tools you need to effectively monitor and optimize all your marketing activities in one place.
Move from siloed channels to optimized customer journeys
Your customers are constantly moving from channel to channel, switching devices and interacting with your brand in different ways. In order to get a clear idea of what's working, it's crucial to get a view of your customers entire journey from awareness to purchase and beyond. AdRoll's cross-channel attribution helps you identify opportunities and curate the most successful customer journeys by automatically capturing UTM-tagged channels and bringing all of your data into one unified reporting dashboard.
"AdRoll gave us the tools we needed to rethink and reinvent our online advertising. It has improved our capacity to deploy specific and unique ads aimed at our existing audience, and to increase our visibility through cross-channel campaigns. More importantly, AdRoll's Ecommerce Marketing Platform provides in-depth analytics and the metrics we need to attribute conversions to specific points along the customers' path to purchase." - Rory Collins, Director of eCommerce at Grunt Style

See the entire customer journey and every stop along the way
You can see the big picture and then easily zoom in to find opportunities, optimizations and customer insights. AdRoll's Paths report helps you compare customer journeys by your top metrics like average order value, path length, revenue and more.
"If we had multiple touches on the path to purchase, to whom should we attribute a sale? If we summed up the revenue contribution each of our vendors were reporting, the sum was greater than the revenue driven during that period of time. How could we evaluate the impact and allocate future spends?

Revenue attribution resolved this issue and enabled us to see whether or not a campaign had succeeded. We could figure out what worked, what went wrong, and plan accordingly for the next campaign. I wanted to bring this approach to Cariloha, and I knew I could do it with AdRoll." - Jason Bertrand, VP of eCommerce at Cariloha

Track performance trends across KPIs
Identify the metrics that matter most to you and keep them front and center with AdRoll's flexible cross-channel attribution dashboard. You'll be able to spot trends, get weekly reports and share results with the rest of your team using our visually pleasing and easy to navigate solution.
"Managing our digital marketing campaigns is easy within the AdRoll dashboard. With a few clicks, I can see how all our ads are performing. AdRoll also generates weekly reports and emails them to me." - Maurice Contreras, Founder/President of Volcanica Coffee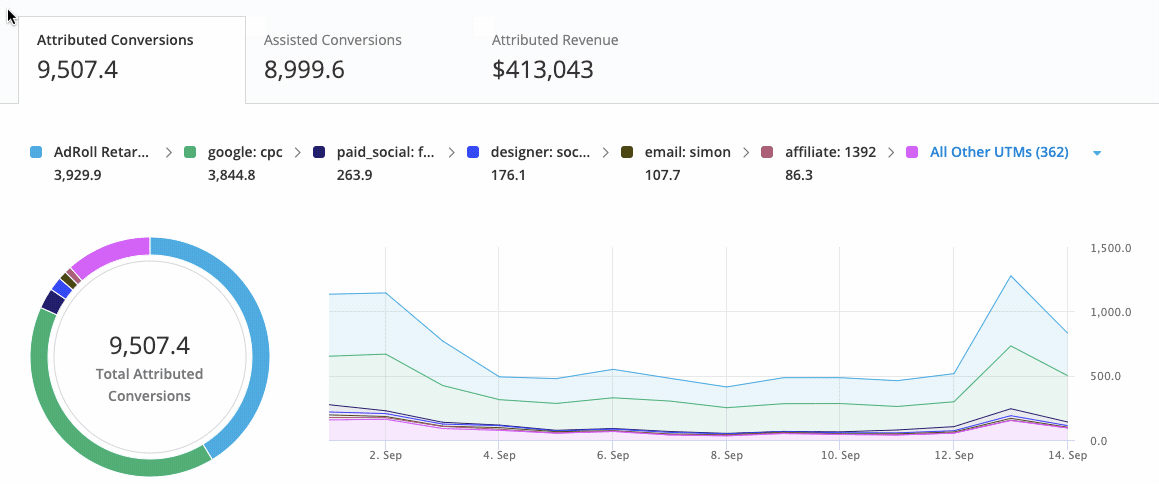 Don't just take our word for it
Here are just a few of the customers who've had great results using AdRoll's Ecommerce Marketing Platform.
Volcanica Coffee
Payton Jewelry