What is a High Intent User Segment?
"High Intent Segments" are a new automatically created segment that campaigns can target. High Intent segments help predict if a user is in the top 20% likelihood of converting. This is created through our predictive algorithm and advanced machine learning.
How do we determine if someone is high intent?
This segment is created by looking at all AdRoll users that have converted. We then use machine learning to find all the users in your specific audience that look like those converters. From there, we take the top 20% and put them into your own specific High Intent Audience segment. 
How should you use this segment?
The High Intent User segment can be targeted within existing general web campaigns, but should be placed within their own AdGroup in order to compare performance accurately between these and other segments.

All other AdRoll segments created manually in the dashboard that you consider "high intent" (i.e. a cart segment) that are being targeted within other AdGroups should be excluded from this new AdGroup to minimize overlap between targeting.
How do you create a campaign using this segment?
Log in to https://app.adroll.com/
Go to the "Campaigns" tab
Select "New Campaign" which shows up next to the date and range selector. 

Select General Websites as your channel. (Note: High Intent User segments are not currently supported by Facebook or Instagram)


Select "Add Segment" and then select "Choose Existing"

All your existing AdRoll segments will show up including the "High Intent User" segment. You can also search for this segment in the search bar. Once you see the segment, select "High Intent Users"

Can you export this segment?
Currently the "High Intent Segment" is available for use within Adroll and isn't available for export to other platforms.
Where can you see this segment?
All customers who have english selected as their primary language can see their "High Intent User" segment pre-loaded alongside all their other AdRoll segments found in the Audiences tab. A screenshot of what this segment looks like is included below.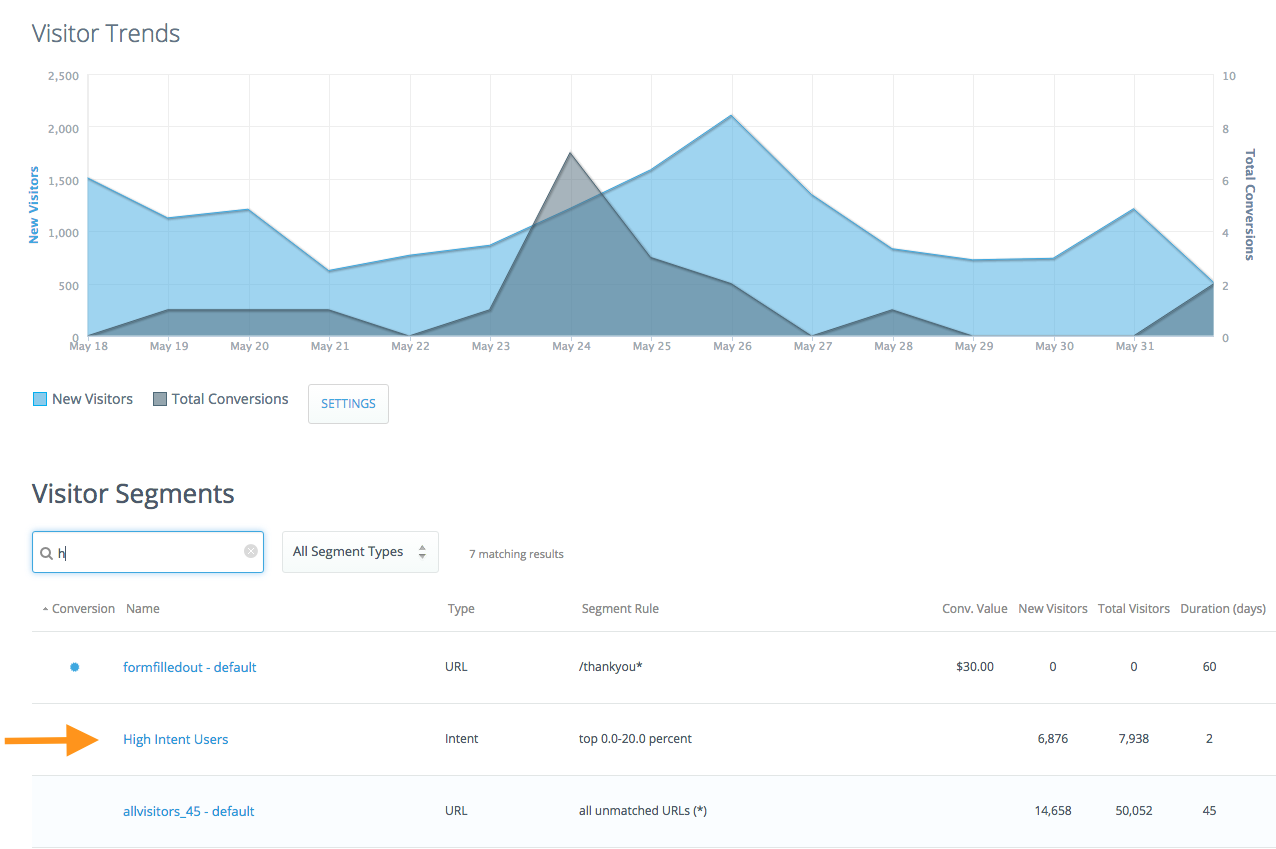 How often is this segment updated?
On a rolling basis, we look back at 28 days of your site data (or as far back as possible if you're just getting started). The system then calculates and automatically refreshes this audience every 24hrs. Isn't Data science amazing?


Who is this available to?
Customers who have their dashboard in languages but english will see, and can use, this segment but at this time it is not translated. We are working on localizing this for all markets.