What you need to get started:
A Tealium account
An AdRoll account
Access to your AdRoll Pixel
Steps to activate your AdRoll Pixel through Tealium
1. Log in to Tealium and navigate to the Tags tab.
2. Click + Add
3. In the Tag Marketplace dialog box that appears, search "AdRoll" or find it in the "Display Ad" category. Click +Add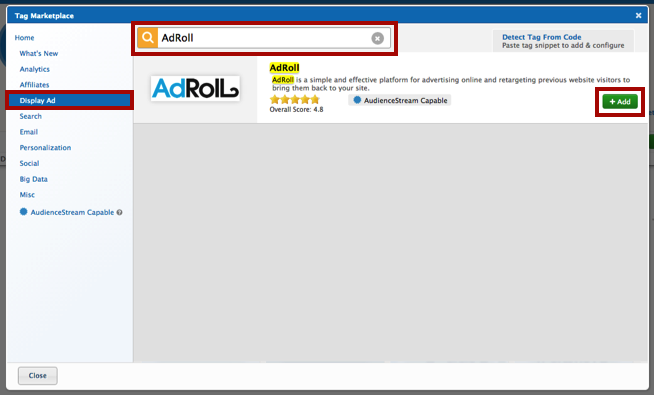 4. In the AdRoll Tag Settings dialog box that appears, configure your tag by entering your unique Advertiser ID and Pixel ID.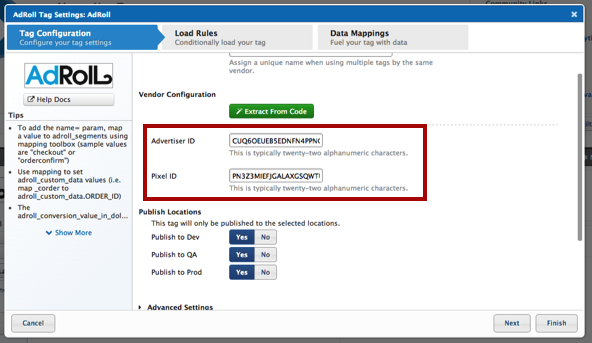 You will find these IDs by logging into your AdRoll dashboard and clicking "Pixel Inactive" in the right sidebar to pull up your AdRoll Pixel.
adroll_adv_id = Advertiser ID
adroll_pix_id = Pixel ID
Copy the alphanumeric string and paste into the corresponding field.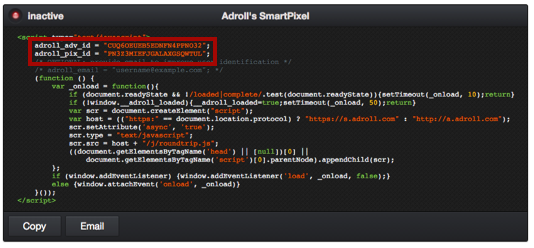 5. Click "Next" to continue to enhanced conversion tracking setup. 
What's next?
If you just want to activate your AdRoll Pixel, you can click "Finish" at this point. But to help you get the most out of AdRoll, we strongly recommend that you reference  step-by-step instructions on how to set up enhanced conversion tracking.