Activate our Zapier integration to simplify the process of running AdRoll retargeting campaigns to reach your email lists, whereever they are stored. Simply set up the trigger on Zapier and sit back as we work with your CRM or cloud storage services to automatically keep your CRM audiences on AdRoll in sync. Click here for more information on how CRM data onboarding works.
This integration can help you do more with AdRoll. Check out some of our suggest Zaps: 
How do I use the Zapier integration?
Here's all you need to get started:
Emails to sync
The AdRoll segment you want to sync those emails to.


Setting up your AdRoll zap
2. Create a CRM segment in your AdRoll dashboard and click "Copy ID to clipboard" to grab your segment ID. Upload a CSV file with the emails you want to target in your campaign (must contain a minimum 100 unique emails to start). In Excel, you can save a document as a .CSV by selecting "Save as...". Save your segment.


3. In Zapier, create a new "Zap" selecting the platform that you wish to connect.
4. Set up your trigger.
5. Select AdRoll as your "action app".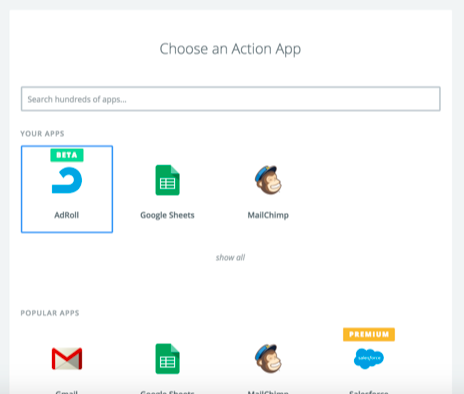 6. Click "Continue."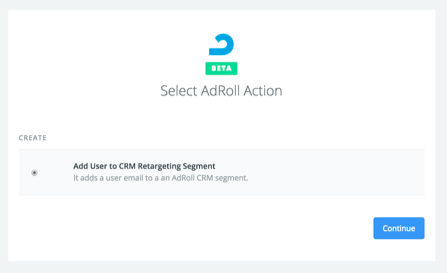 7. Sign into your AdRoll account.
8. Click the dropdown under Advertiser ID (required). We will pull your advertiser ID from your account automatically. Click to select.


9. Under CRM Segment (required), select the option to "Use a Custom Value" and enter the segment ID that you copied in step 2.
10. Enter your email.
11. "Create & Continue" to complete setup.