If you're retargeting on the web, you'll need the following ad sizes for your campaign. Learn more about how to create your ads.
Ensure Reach

Medium rectangle: 300×250
Leaderboard: 728×90
Wide skyscraper: 160×600
Mobile leaderboard: 320×50

Native Ads

600x500 (Recommended)
600x600
600x315

Boost Performance

Billboard: 970x250
Large rectangle: 300x600
Driving optimal campaign performance means balancing reach and performance. Reach without performance is inefficient. Performance without reach limits your opportunity to reconnect with potential customers.
The medium rectangle, leaderboard, and wide skyscraper ad sizes are the most widely supported ad sizes that allow you to find your potential customers in more places. They make up over 80% of available inventory. With so much inventory, impressions for these ad types tend to be low cost (CPM).
Where Your Ads Appear
Medium rectangle ads typically appear in-line or to the right of content.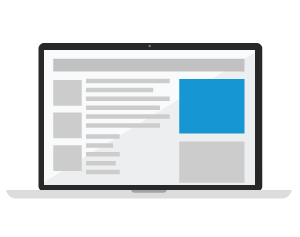 Leaderboard ads typically appear at the top of the page.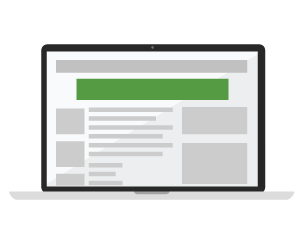 Wide skyscraper ads typically appear along the left or right margins of the page.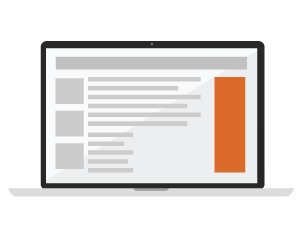 Mobile
In a world that is increasingly more mobile, you'll need a mobile leaderboard ad size.
Mobile leaderboard ads drive clicks. While conversions don't always take place on mobile devices, mobile ads play an important role in your customer journey. They help you reach visitors and spread your brand awareness.
If you're running a campaign specifically to drive your highest-intent users to convert, it might make sense to focus on desktop ad sizes. If awareness of your business is important to you, including this ad size will help you find visitors, no matter which device they're on.
Mobile leaderboard ads appear in both mobile web browsers as well as in-app.
Native Ads
Native ads appear in a format native to the site they're on and tend to drive more clicks. Learn more about Native Ads.
Large Ad Formats
Large rectangle and billboard ads are difficult to miss on the page and can help you make a big impact on your potential customers. Campaigns that include these two ad sizes perform extremely well in click and conversion performance metrics (CPC and CPA).
The downside of these larger ad formats is their cost (higher CPM). When supply is limited, we have to bid higher to win the ad space. Even so, the potential increase in visibility, CPC, and CPA can make this ad size worth the premium.
We recommend big, bold, and beautiful imagery for this ad format.
Large rectangles appear to the right or left of page content.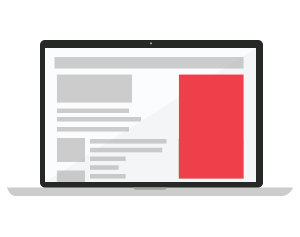 Billboard ads typically appear at the very top of the page.