Recommended Ad Sizes
We recommend that you have the six most popular ad sizes, at minimum. The more ad sizes you upload, the more inventory we can buy for you.
| | |
| --- | --- |
| Medium Rectangle: 300×250 | Leaderboard: 728×90 |
| Wide Skyscraper: 160×600 | Half Page: 300x600 |
| Billboard: 970x250 | Mobile Leaderboard: 320×50 |
---
Additional Ad Sizes
Banner: 468×60
Skyscraper: 120×600
Small Rectangle: 180×150
Large Rectangle: 336×280
Square: 250×250
Rectangular Button: 180x60
Mid square: 200×200
---
Where Your Ads Appear
    Medium rectangle                             Leaderboard                             Wide skyscraper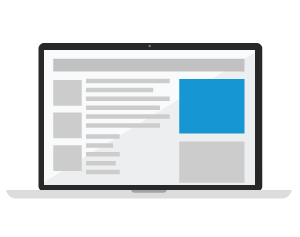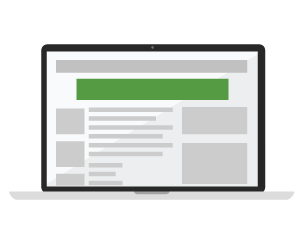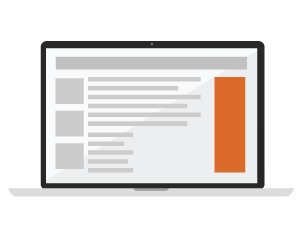 Large rectangle                                 Billboard                              Mobile leaderboard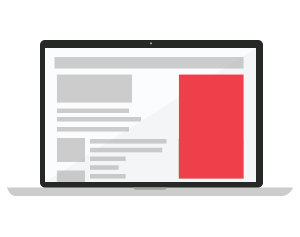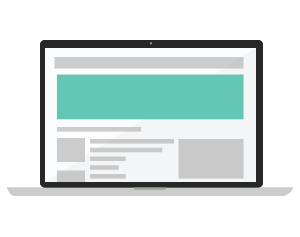 ---
Format Guidelines 
Accepted files 
JPG, GIF, PNG 
File size
Up to 150KB
Title
Up to 140 characters
Description
Up to 30 characters
Brand name
Up to 30 characters
Link description
Up to 30 characters
Destination URL

Web banners are not permitted to use redirecting URLs. Track campaign analytics with a UTM.
Up to 1024 characters
Banners cannot link directly into a payment processor (e.g., PayPal). Visitors must be able to review terms of the offer prior to entering purchasing/sign-up flows.
Your destination URL can't link to a YouTube video.

Animated ads
Animated ads are restricted to 30 seconds maximum (at a 15-20 fps frame rate), after which animations will stop. You can give the viewer the option to restart the animation.
---
Native Ads
Our native ad builder makes it easy to create multiple ads simply by uploading your image. Resulting ad sizes will be 600x500, 600x600, and 600x315, depending on where they appear. To ensure access to all native ad inventory, make sure you have ads in all three sizes.
To create your Native Ads, navigate to your Ads tab and click Create Native Ads.
Where Your Ads Appear
A native ad fits the natural form and function of the environment where it appears. For example, on a site such as The Atlantic, a Native ad resembles a featured story within the news stream.
Format Guidelines  
| | |
| --- | --- |
| Accepted files  | JPG, GIF, PNG  |
| File size | Up to 150KB |
| Image | Uploaded image should be 600x315px or larger. Our ad builder makes it easy to crop and zoom. Avoid text, logos, and clutter. |
| Title | Up to 60 characters |
| Description | Explain your brand, product, or content. We recommend longer descriptions, up to 140 characters. |
| Brand name | Up to 30 characters |
Best Practices
For best results, we recommend the following:
Eye-catching image: Your Native Ad image can't contain text, so use a image that encourages people to look at your ads, such as images of people or brighter colors.

Enticing title: Use your title to promote your site. Make it interesting for your visitors: something they'll want to click on to learn more about.

Add native ads to your existing Web campaigns to access native ad inventory across the web.

If you have multiple Native Ads, create a new AdGroup for these ads so you can easily see your performance across all Native Ads.
---
HTML5 Ads
HTML5 offers a set of rich animation and interactive content features that work universally across any platform or device type.
HTML5 ads render just like web pages, in contrast to Flash (.SWF), which requires you to have a Flash player (plugin) installed.
Create HTML5 Ads
To build HTML5 ads, we recommend working with a developer. Otherwise, here are a few helpful tools to create ads without a developer.
After you create your ads, test them, then reach out to the Customer Support team for help uploading ads.
Zip File Requirements
Each ad must be its own zip file containing all code and assets (including public, commonly used JavaScript libraries) that make up the HTML5 ad.
All asset links must correctly reference the file locations.
Maximum 150 KB zip file, contains no more than 10 files.
All assets must be loaded from a secure connection (https).
Zip file must contain all files referenced from the HTML doc.
No cross-domain scripting: code references to external domains are not allowed.
No local storage or session storage libraries allowed.
Must be a single, well-structured, and complete HTML document at the root folder
HTML tag <!DOCTYPE html>, <html> and <body> tags
Declare the clickTag variable

Example: <script type='text/javascript'>var clickTag ='http://www.adroll.com';</script>
This clickTag variable must be passed as a parameter to any window.open event inside the ad, usually assigned to the JavaScript onclick event of a div element: <div id="clickArea" style="width: 300px; height: 250px" onclick="window.open(clickTag ,'_blank');">

<meta> tags must be used to identify the size of the ad

Example: <meta name="ad.size" content= "width=300, height=250">

Can load into an iframe
Format Requirements
Supported File Types
 

HTML, HTM
CSS
JS
XML
SVG
JPG
JPEG
GIF
PNG

Supported Ad Sizes
 

728×90
300×250
160×600
300x600
468×60
120×600
336×280
250×250
320x50
970x250

Supported Shared Libraries & External Files

 

Adobe Edge
CreateJS
JQuery
Angular JS
Tumult Hype

HYPE-466.full.min.js
HYPE-466.thin.min.js

GSAP
Swiffy

Browser Support

Chrome 40 and above
Firefox 35 and above
Internet Explorer 10 and above (including Edge)
Opera 20 and above
Safari 7.0 and above

Supported HTML5 Authoring Tools
---
Third-Party Ad Tags
A third-party ad tag is a snippet of code that allows you to manage and serve ads passed in from an ad server instead of uploading ads directly to AdRoll. To request this feature, please reach out to your Account Manager.
Supported Vendors and Ad Sizes
AdRoll supports the following third-party ad servers below (with corresponding ad tag formats). When you upload tags of these types, the click macros will be dynamically inserted for you.
Note: Your third-party ad tags shouldn't link to flash files.
Don't see the ad server or tag format you use in the list below?
Let your Account Manager or our Customer Support team know and we can work to upload your tags for you.
Supported vendors and tag types

Javascript:  

Adition
AdForm
AdTech
Bannerflow
EyeReturn
Facilitate Digital
Flashtalking
Mediamind/Sizmek
SiteScout
Speedshift
Spongecell

iframe:
iframe OR Javascript:

Atlas
Doubleclick
MediaPlex
PointRoll
Supported ad sizes

728×90
300×250
160×600
300x600
468×60
120×600
336×280
250×250
320x50
970x250
SSL Requirements
All ads must be SSL-compliant.
What is SSL? A Secure Connection Protocol – SSL stands for Secure Socket Layer. It's a protocol for establishing a secure connection between two parties to encrypt all communications, which increases security. 
Not only must the URLs contained in third-party ad tag code snippets be SSL-compliant, but all additional URLs called via redirects must also use https as well.
AdRoll's third-party ad tag uploader checks to see if all the URLs included in and called by third-party ad tags are secure.
Upload Ad Tags
Once your Account Manager has granted you access to upload your third-party ad tags, follow these steps:
Navigate to Ads > Create Third Party Ads

Enter a name for the ad you are creating (that you'll be able to identify it by later when adding it to campaigns).

Select the ad size of the ad tag you're uploading.

Copy and paste the entire ad tag code into the field labeled Third-party ad tag code.

Note: It's important to copy the actual text, not the cell, if the text is in a spreadsheet.

If you have multiple ad tags to upload, select Add An Additional Tag and a new box will appear for you to repeat the process above.

Submit. 
Ad Swapping
Supported vendors Integral Ad Science and DoubleVerify both use ad swapping, which require declaring alternative "fall-back" ad images and a "fall-back" URL.
The AdRoll third-party ad tag uploader detects if these vendors are being used, and if so, automatically passes the required information on the backend, so no additional work is necessary on your part when uploading tags from these vendors.
Troubleshoot
You'll get an error message when uploading your ad tags if the URLs they call are not secure (SSL), or if the ad tags are not recognized as being from one of AdRoll's supported ad-serving vendors listed above.
Non-secure URLs are present

If you see this error message, it means that one or more of the URLs called by the third party ad tag is using http: rather than https. The non-secure URLs that are called will be listed out in the error message.
The fix: When you get the ad tag code from your provider, make sure you select the "Secure" or "SSL" version if they offer one. If you have already done this, please show the non-secure URL(s) listed in the error message to your ad tag provider and ask them to update the tag to make sure all URLs called are secure and use SSL.

Unsupported Tag Type

If you see this error message, it means that the ad tag uploaded was not recognized as being from one of the AdRoll-supported vendors (see the list above), or that its format was not recognized by the uploading tool.
The fix: See the list above for the supported ad tag servers and formats, and use one of these. Or, if you would like to use an ad server that is not on the list, please reach out to your Account Manager or our Customer Support team and they can upload other third party ad tag types for you.
---