Can you make ads for me?
Yes! AdRoll advertisers have access to our free ad service. Start a web campaign to request ads from our Design Squad: a team of professional designers. We'll return with a set of seven ads (six web and one Facebook), customized for your business.
Your ads will be ready within 3 business days. You'll receive an email notification to let you know and they will be automatically uploaded to your campaign. You will also be able to find them in the Ads tab of your dashboard. 
How do I request ads from the Design Squad?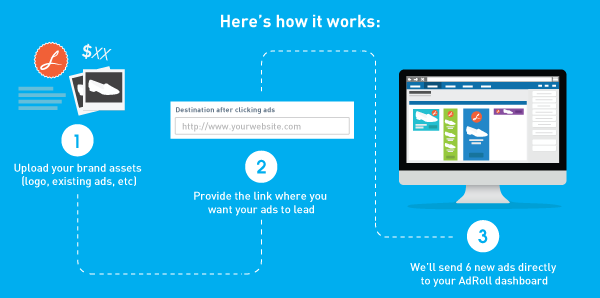 To Request Ads, You'll Need a Campaign
If you don't have a campaign:
Log in to your AdRoll dashboard.

Click Create New Campaign in the right sidebar. Check out detailed instructions for how to launch a campaign.

Navigate to Add Ads > Request Ads.

Fill out the form with the requested information.

Review and launch your campaign.
If want new ads for an existing campaign:
Select the campaign(s) you want new ads for.
What information do I need to provide when I request ads?
To get started on your ads, we'll need some information from you about your business. Submit your request with the following information.
Destination URL

This is the URL of the page that users will end up on after clicking your new ads.

Call to action (CTA)

This is what you want your audience to do. Select from our list of suggested CTAs, or choose "Other" if you have something specific in mind. As a best practice, your CTA should be a concise action to take.

Website branding

Enter your website URL so we can make sure that your ads match your website brand. In most cases, this will match the domain of your destination URL.

Additional copy, notes or requests

If you have any instructions for your designer, enter them here. For example:


What is your value proposition?
Are you running a special promotion?
Is there a particular service or product category you want to highlight?

Logo and other brand assets

We'll need your logo. The rest is optional. if you have any other images that you want us to incorporate into your ads, send them over. If you .ZIP your files, you won't have to upload them one by one!


.PNG or layered .PSD files are preferred
Maximum (zipped) filesize 2MB
Which ads will I receive?
If you request ads through a web campaign, ads in the following sizes will be automatically uploaded to that campaign when they are ready:
300x250
160x600
728x90
300x600
970x250
320x50 (mobile)
Learn more about ad sizes.
If you request ads through a Facebook campaign, a prepared 600x315 Facebook ad with title, text, and a link description will be automatically uploaded to that campaign when it is ready. Feel free to edit your ad as needed, if you want to change the messaging or add a CTA.
The remaining web or Facebook ad(s) we've prepared will be available in your Ads library. To activate them on your next campaign, launch a campaign and on the "Add Ads" step "Choose Existing" to select it from your Ads library.
When will my ads arrive?
Your ads will be ready within 3 business days. When they are ready, we'll send you an email to confirm. Your ads will automatically upload to the campaign (through which you requested the ads). Once uploaded to the campaign, your ads will also be available in the "Ads" tab of your dashboard.
Can you make me ads in other languages?
At this time, Design Squad is an English-only service.
Can you make me animated ads?
At this time, Design Squad only makes static ads.