Pause your campaign with one click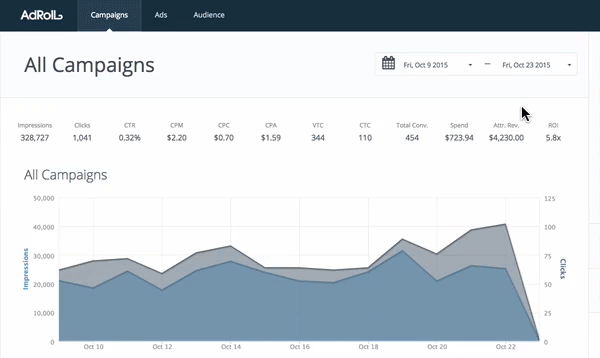 1. Go to "Campaigns" on your AdRoll dashboard.
2. Scroll down and hover your mouse cursor over the campaign you want to pause.
3. Click the "Pause" button that appears.
4. Make sure that your campaign status shows as paused.
What happens when I pause a campaign?
When you pause a campaign, you are temporarily suspending that campaign's activity. This is not permanent; you can also un-pause the campaign at any time from your dashboard by clicking the "Resume" button that appears when you hover over the campaign.
When you un-pause the campaign, your campaign will resume immediately.
Do paused campaigns count towards my required balance?
Your required balance is the sum of your active campaign budgets. If you need to brush up on how billing works, click here.
Paused campaigns do count towards your required balance. This is so when you un-pause we have the credit needed to immediately resume your campaign.
If you need to lower your required balance or are not planning on resuming your campaign any time soon, consider completing your campaign. Ads are saved in your Ads library so you can relaunch easily if you change your mind.