In order to show your ads on Facebook, first link your Facebook business page to your AdRoll account.
There are two ways for you to connect your Facebook page to AdRoll: when you're building out your first Facebook campaign, and through our integrations hub. Both processes are outlined below. 
Connect your Facebook page through Integrations
Navigate to Settings > Integrations.

 

Select the Facebook button. 

Follow the prompt to connect to Facebook.
Connect Your Facebook Page during Campaign Creation
Log in to AdRoll and start creating your Facebook campaign. Refer to our post that walks you through setting up a Facebook or Instagram campaign if you need help with setting up your Facebook retargeting campaign. 

Follow the prompt to Connect to Facebook.

 

If you have multiple pages connected to your Facebook account, select which page you want to give AdRoll advertiser access to.

 

Click Select to finish connecting your page to Facebook
Connecting Your Instagram Account 
Instagram FAQ
Can I run Instagram ads without connecting my Instagram account? Yes, with AdRoll you can serve your campaign on Instagram without connecting your Instagram. This gives our advertisers without an account, or without access to their Instagram account the ability to run Instagram ads. 
Why connect my Instagram account? Connecting your account will give you the ability to monitor and manage comments on your Instagram ads. Additionally, the Instagram ad will be directly linked to your Instagram page, so users can easily add your account and follow you.  
How do I connect my Instagram account? By connecting your Instagram account to AdRoll, you'll have greater control over comments that you receive on your Instagram ads. To do this, you will need to create a Business Manager account with Facebook and to get your Instagram account. Click here to learn more about how to create a Business Manager account for your Instagram account. 
After connecting your Facebook page, select Connect Instagram account under your Facebook connection

Enter your Instagram account ID and click Confirm

 

You're connected!
Why does AdRoll need Advertiser access?
We need access to your Facebook Page to to create your News Feed ads and pull the data we need to report on your campaign's performance. For more information on managing page roles (and the differences in access levels), check out Facebook's support article here.
Trouble adding your Facebook URL?
Make sure that the URL submitted links to your Facebook business page. Event or personal pages won't work.
If you have verified that the page you are trying to add is an eligible business page, but are still seeing an error, check for Country and Age restrictions on your Facebook business page.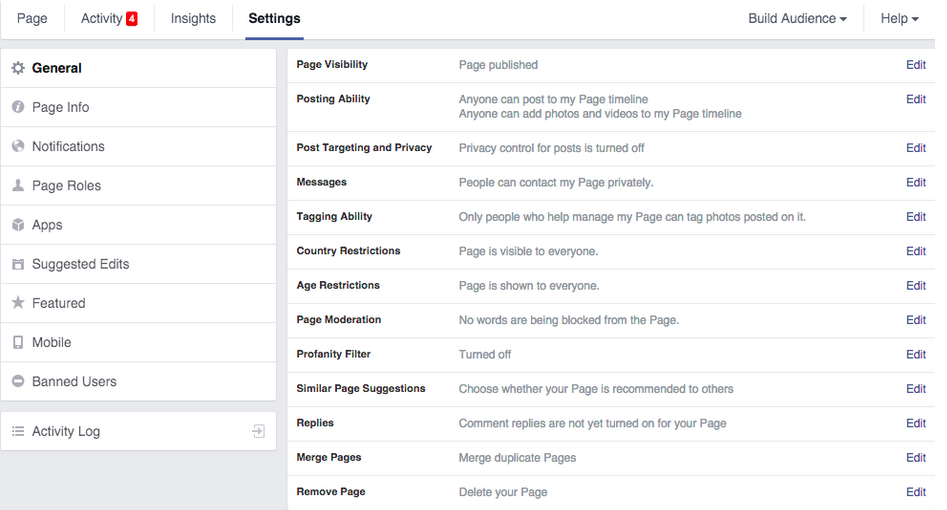 Retargeting does not use demographic information. The discrepancy between your Facebook business page and retargeting campaign settings is what results in an error.
Removing restrictions
Log in to your Facebook business page

Go to Settings

Click on the "General" tab

Make sure that Country and Age restrictions show "Page is visible to everyone"

Once complete, country and age restriction settings should look like this: