Where Your Ads Appear
Desktop News Feed                                       Mobile News Feed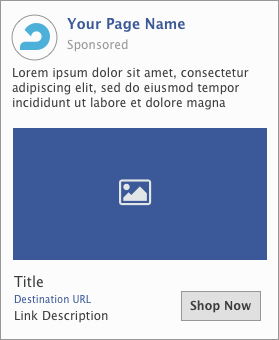 Facebook Right-Hand Column (RHC)               Facebook Audience Network (FAN)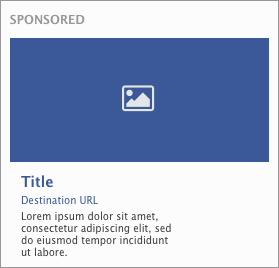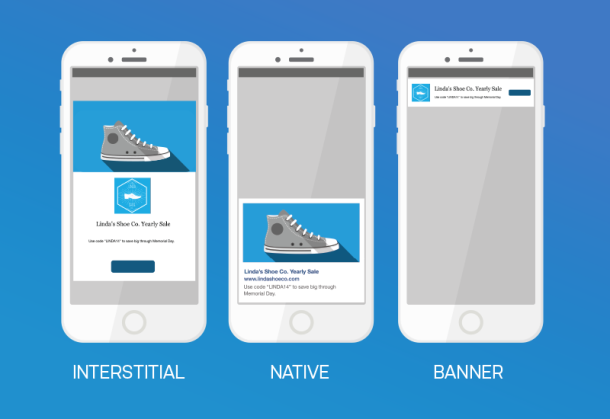 ---
Format Guidelines 
Accepted files 
JPG, GIF, PNG 
File size
Up to 150KB
Image

Sizes: Aspect ratio of 1:1 (Instagram) or 1.91:1 (Facebook), 600x315
We recommend images with minimal text. Use Facebook's text overlay tool to check your images.
For Instagram: no borders or letterboxing.

Title
Up to 25 characters.
Description

Up to 125 characters.
The following characters aren't allowed: @ > # $ % ^ &* ( ) <
Excessive capitalization is not permitted.

Link description
Up to 25 characters.
Display link

Up to 1024 characters
This is how you format the URL that will appear on your ad. It links to the website URL that you submit when you set up your profile. Check Settings > Advertiser Profiles to make sure that your website URL is correct.

Destination URL

Up to 1024 characters.
Banners cannot link directly into a payment processor (e.g., PayPal). Visitors must be able to review terms of the offer prior to entering purchasing/sign-up flows.
Your destination URL can't link to a YouTube video.

Instagram caption

Recommended length: 125 characters (max. 300 characters)
Tags must point to a real account
Note: Using more text than the recommendations may result in the copy being truncated.
---
Best Practices 
Your first-party data is the key to engaging your visitors on one of the largest ad inventory sources on the web. As a leading Facebook partner, here are tips to help you get more from your campaigns.
Test different ads: Change fonts, colors, images, and calls to action to find what works best. Test ads by changing one aspect per test, such as CTA, and run the ad for about 10,000 impressions.

Rotate ads: Keep your ads fresh by switching ads every two to three weeks. The rotation window may vary depending on your frequency caps and the number of users in your user list.

Test promotions: Promote products, offer a discount, or promote a loyalty programs to drive additional social engagement and sales.

Choose colors wisely: Choose images and colors that look vivid against Facebook's blue and white.

Test landing pages: Use landing pages from different stages of your sales funnel to see which lead to more conversions.Forget your customers are on Facebook to socialize!
Want to update existing ads based on the recommendations above? Read through Managing Ads in Your Ad Library for instructions on bulk editing ads to make these changes faster.