What is a granular conversion report?
As the name suggests, your granular conversion report (GCR) shows you granular information about your conversions, such as when your conversion occurred and which ad the user saw or clicked on prior to converting. In addition to this default data, you can set up enhanced conversion tracking to get more granular insight into the context of each conversion recorded.
Dieser Bericht nützt Ihnen nur, wenn Sie ein Conversion-Segment definiert haben.
How do I generate a granular conversion report?
All reports are accessible through your dashboard. Click the "Generate Report" button in your right sidebar.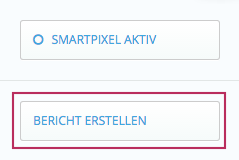 The GCR report is a nested report within the Profile Overview report type. What is reported within the GCR will depend on what you specify for start and end dates, displaying conversions that occurred within that date range.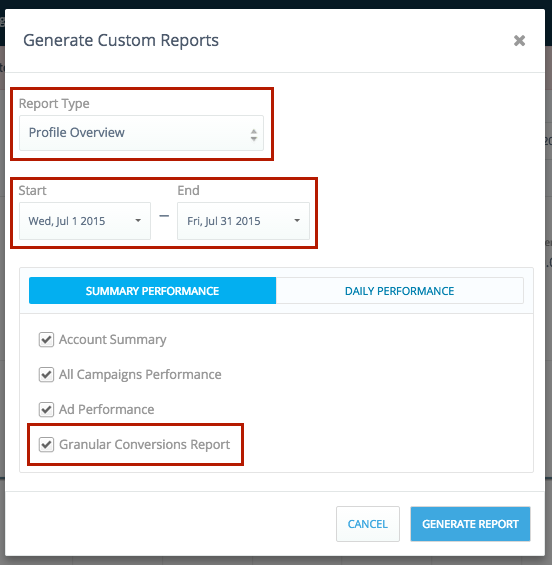 Wie interpretiere ich meinen Conversions Detailbericht?
Your GCR is actually fairly straightforward, once you understand what each of the columns mean. In order from left to right, the following information is reported in your GCR.
Conversion-Zeitpunkt: Wann die Conversion erfolgte (d. h. wann dem Benutzer die Bestellbestätigung angezeigt wurde).
Conversion-Typ: Es gibt zwei verschiedene Arten von Conversions; View-Through-Conversions (VTC) und Click-Through-Conversions (CTC).

VTC: Einer Person wurde Ihre Anzeige angezeigt und diese führte eigenständig eine Conversion durch.
CTC: Eine Person klickte auf Ihre Anzeige und führte dann eine Conversion durch.

Campaign: Name of the campaign that served the converting ad.
Anzeigengruppe: Name der Anzeigengruppe, aus der die konvertierende Anzeige stammt.
Anzeige: Name der Anzeige, die zu einer Conversion führte.
Segment: The targeted segment that resulted in a conversion.
Conversion-Wert: Auf die Conversion zurückzuführender Umsatz (wird nur angegeben, wenn Sie einen festen Conversion-Wert eingegeben oder das erweiterte Conversion-Tracking eingerichtet haben).
Country and City: If available (provided to us by the network; this is unavailable on Facebook campaigns) the country and city where the conversion happened.
Letztes Ereignis: Die letzte Interaktion des Benutzers mit Ihrer Kampagne vor der Conversion.
Final Event Timestamp: When the final event occurred.
Finally, any custom data that you define in your enhanced conversion tracking script will also be reported on your GCR as external data. In addition to order values, the most common variables passed back through enhanced conversion tracking are order ID and user ID. Examples of additional variables that you might be interested in passing are:
Mitgliedschaftstyp (z. B. zur Unterscheidung von Standard- und VIP-Kunden)
Verwendete Gutscheincodes
PLZ der Bestellung
What types of information can I pass back?
Sie können gerne Informationen zurückgeben, die Ihnen mehr Kontext für die Conversion bieten, so lange dadurch kein Individuum identifiziert werden kann. Diese Art von Informationen werden personenbezogene Daten genannt.
It is important that you do not pass back any personal identifiable information (PII) as it is a violation of user privacy and by agreeing to Terms of Service (required for all advertisers that use our platform) you agree to not do this.
Examples of information that is not considered PII:
Bestellwerte
Auftragskennzeichen
Nutzer-ID (keine E-Mails)
Mitgliedschaftstyp
Verwendete Gutscheincodes
PLZ der Bestellung
Beispiele für personenbezogene Daten:
E-Mail-Adressen
Vor- oder Nachnamen
Spezifische Zahlungsinformationen
Adressen
Wie richte ich das erweiterte Conversion-Tracking ein?
To learn more about enhanced conversion tracking, click here.